Main content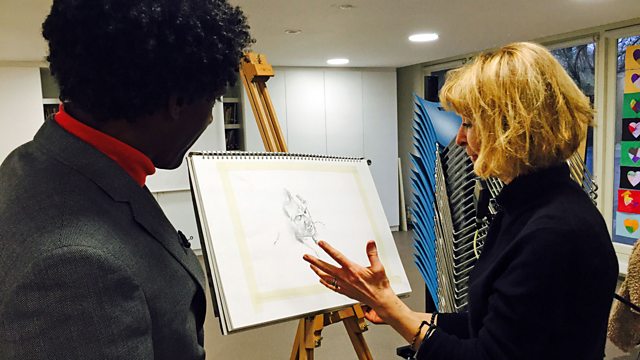 Lemn Sissay
Programme following artist Fiona Graham-Mackay as she creates a portrait of poet Lemn Sissay, listening in on conversations between the sitter and painter as the work progresses.
In many ways a portrait painter is like a detective - looking for clues below the surface to capture the sitter's true likeness. In this programme we follow artist Fiona Graham-Mackay and her latest subject - the poet and playwright Lemn Sissay - through this sometimes emotional process.
"I feel like you've gone into me and looked out from behind my eyes."
Lemn Sissay MBE was an official poet for the London Olympics and his Landmark Poems are installed throughout Manchester and London. Born to Ethiopian parents, he was raised in Lancashire by strongly religious foster parents who, having had biological children of their own, put him into care aged 12. They told him neither they, nor any of their family, would contact him again.
On leaving care at 17, he self-published his first book of poetry while on the dole. Much of his work tells the story of his upbringing and search for his birth parents.
Fiona Graham-Mackay has painted hundreds of portraits, including Seamus Heaney and Sir Andrew Motion. "It's in the space between sentences that people reveal themselves," she says.
Recorded in Lemn's home and at the Foundling Museum in London, where Lemn is a fellow, the programme follows the portrait taking shape. It's an intimate experience, peeling away the layers to capture the essence of the sitter as seen through the artist's eye. And in this, conversations meander in unexpected places.
Features a reading of "Suitcases and Muddy Parks" from Rebel Without Applause by Lemn Sissay, published by Canongate. Used with permission.
Producer: Eve Streeter
A Pier production for BBC Radio 4.