Main content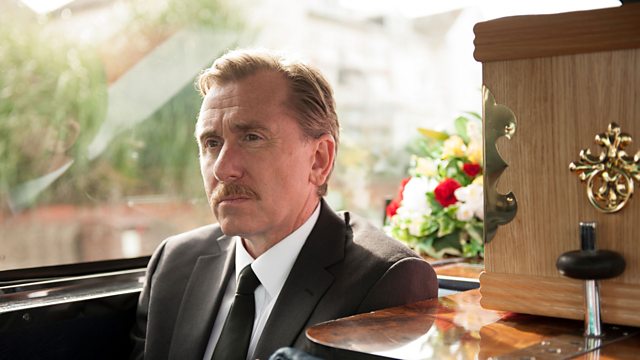 Reg
Drama by Jimmy McGovern based on a true story. Tim Roth stars as Reg Keys, the father of a soldier killed in Iraq, who took on Tony Blair about Britain's role in the conflict.
Drama by Jimmy McGovern based on the true story of Reg Keys, the father of a royal military policeman, who took on the British prime minister over Britain's participation in the Iraq War.
When Reg and his wife Sally return home to discover that their son, Lance Corporal Tom Keys, has been killed four days short of his 21st birthday in the volatile Shia city of al Majarr al Kabir, they are plunged into grief and despair.
Learning that the army had ordered a scale-down in weapons and comms three weeks prior to his son's death, and angered by his belief that the war with Iraq was based on a lie, Reg forms a pressure group called Families Against the War. Certain that his son died as part of an army blunder, Reg tries several times to talk to Tony Blair, to no avail. He then makes a radical decision: to stand for election against Tony Blair in his home constituency of Sedgefield.
As the campaign takes up more of Reg's time, Sally continues to struggle with her grief at home. When election night draws in, and the world's press gathers in Sedgefield, tensions run high as the final count begins to emerge.
Credits
| Role | Contributor |
| --- | --- |
| Reg Keys | Tim Roth |
| Sally Keys | Anna Maxwell Martin |
| Richard Keys | Elliott Tittensor |
| Bob Clay | Ralph Brown |
| Nan | Sandra Voe |
| Major Potter | Chris Brailsford |
| Officer | Michael Cahill |
| First Soldier | Frankie Wilson |
| Brize Norton Officer | Myles Keogh |
| Tom Keys | Zac Fox |
| Major Bryn Parry Jones | Charlie Anson |
| Lance Corporal Joanne Richardson | Kate Bracken |
| Corporal John Fraser | Mikey Collins |
| Blair's Minder | David Westhead |
| Ambulanceman | Danny Lawrence |
| Felicity Arbuthnot | Jan Goodman |
| Martin Bell | David Yelland |
| Fredrick Forsyth | Timothy Bentinck |
| Man 1 | Alan Renwick |
| Man 2 | Paul Copley |
| First Voter | Robert Horwell |
| Second Voter | Ian Puleston-Davies |
| Third Voter | Moey Hassan |
| Al Lockwood | Andrew Readman |
| Interviewer | Vivien Creegor |
| Male Voter | Dale Meeks |
| Woman | Joan Kempson |
| Teller | Steve Garti |
| Returning Officer | Kevin Doyle |
| Woman Voter | Margaret Jackson |
| Producer | Colin McKeown |
| Producer | Donna Molloy |
| Director | David Blair |
| Writer | Jimmy McGovern |
| Writer | Robert Pugh |