Main content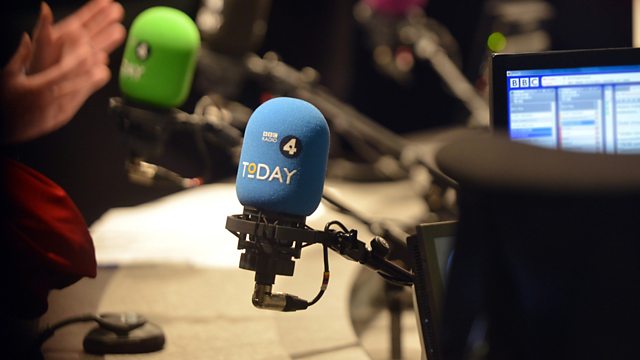 16/06/2016
Morning news and current affairs. Includes Sports Desk, Yesterday in Parliament, Weather and Thought for the Day.
Last on
Today's running order
All timings subject to change.
0650
A bitter dispute over the role of rail guards has worsened after a leading union said it had evidence that trains were being cancelled even if staff were available. Tony Miles, from Modern Railways Magazine, joins us on the programme.
0710

England and Wales meet in the Euro 2016 football championships this afternoon, with tight security expected around the fixture in the French town of Lens.  It follows disturbances in nearby Lille last night, where riot police used tear gas to disperse crowds. Dan Roan is the BBC's sports editor in Chantilly.
0715
The Financial Times is calling for a vote to remain in the EU. In its editorial it says 'a vote to withdraw would be irrevocable, a grievous blow to the post-1945 liberal world order.' Lionel Barber is editor of the Financial Times.
0720
The Welsh band Manic Street Preachers produced the official anthem for Wales' first appearance in a major football championship in more than 50 years. Nick Robinson has been speaking to the Manic Street Preachers' lyricist Nicky Wire.
0730
It is exactly one week until the EU referendum takes place – one of the most significant decisions this country has taken in decades. It is a decision that is tearing the Tory Party apart and has divided two once close friends - David Cameron and Michael Gove who are on opposing sides of the argument.  Nick Robinson examines their friendship.
0740
Scientists say the results of a global survey into coral reefs give hope that the vital marine structures can survive the destruction wrought by man-made and environmental pressures. Dr Christina Hicks is environmental social scientist at Lancaster University's environment centre and has co-authored the report.
0750
The father of a teenager who took his own life has said his death proves the mental health system in England is "not really fit for purpose". Steve Mallen is father of 18-year-old Edward Mallen and Dr Andy Wiener is consultant child and adolescent psychiatrist at the Tavistock and Portman NHS Foundation Trust.
0810
More on tight security in Lens ahead of England and Wales match in the Euro 2016 football championships this afternoon: Martin Glenn is chief executive of the Football Association of England and Jonathan Ford is chief executive of the Football Association of Wales.
0820
BBC News is holding an EU Referendum "Question Day". Yesterday we asked for your questions by email and on social media. To help answer them we are joined by the BBC's editors.
0830
A group of leading scientists has launched the Genome Project-Write - a new mission to chemically synthesize the human genome. The project is conceived as a new challenge for scientists, following the successful sequencing of the genome a decade ago. Professor George Church is pioneer in synthetic genome technology at Harvard.
0840
Will the Labour Party be forced to change its stance on immigration and consider revising the arrangements over the free movement of people? Deputy Labour leader Tom Watson has said EU immigration rules may have to be revisited but Jeremy Corbyn says free movement is non-negotiable. Ayesha Hazarika is former adviser to Harriet Harman and Ed Miliband, and Steve Richards is columnist at The Independent.
0850
Is enough being done in schools to encourage kids to read for pleasure? Research from the Oxford University Press has found that more than half of teachers believe they do not have enough time in the curriculum to read stories to kids and talk about books - particularly classic stories. Jane Harley is Oxford University press strategy director for UK education and Michael Morpurgo is former children's laureate and OUP series editor.
Broadcast