Main content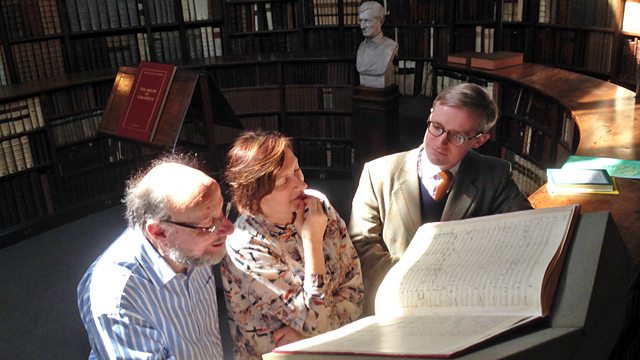 The Dream of Gerontius - Elgar
Frances Fyfield is at the Birmingham Oratory to see the handwritten score of Elgar's The Dream of Gerontius.
When Elgar was commissioned to write a new work for the Birmingham Music Festival of 1900 he eventually lighted on a poem by the late Cardinal John Henry Newman, The Dream of Gerontius. The resulting piece, neither Oratorio nor Cantata, has remained a favourite in this country for over a century in spite of a disastrous first performance.
When Novello's eventually decided to print the orchestral score Elgar presented his handwritten manuscript, which had been used to conduct the work for two years, to Cardinal Newman's library at the Birmingham Oratory.
Frances Fyfield and her guests, the internationally acclaimed Mezzo-Soprano and singer of the role of the Angel, Sarah Connolly, the choral conductor and head of music at Gloucester Cathedral, Adrian Partington and the music scholar and conductor Nigel Simeone make the pilgrimage to Birmingham to see this extraordinary work which Elgar himself declared in the score was 'the best of me'.
As ever the musician's eye is drawn to the details, the nuances, the refinements in the composer's own hand, and they're not disappointed. Although the famous conductor Hans Richter used the score to conduct the work in Birmingham and elsewhere, Elgar's neat markings mean there's little more than the composer's hand on display.
There are, however, tell-tale additions by Elgar's publisher August Jaeger (The Nimrod of the Enigma Variations) and just occasionally Richter does call upon the chorus and orchestra not to rush.
The setting of Cardinal Newman's Library, the sheer beauty and complexity of the music and the sense of a composer working at the very peak of his powers make this a compelling manuscript with a moving response from the musicians lucky enough to see it.
Producer: Tom Alban.
More episodes
Previous
You are at the first episode