Main content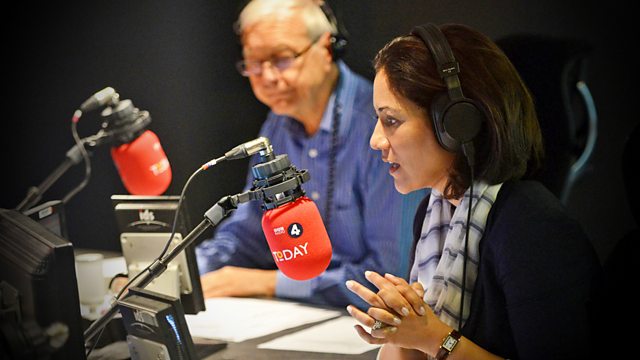 14/06/2016
Morning news and current affairs. Includes Sports Desk, Yesterday in Parliament, Weather and Thought for the Day.
Today's running order
All timings subject to change.
0650
A five year project involving scientists from the UK and India is sending a fleet of robots in to the Bay of Bengal to predict monsoon rainfall. Oceanographer Dr Ben Webber joins us on the programme.
0710
The Sun newspaper urges its readers to vote to leave the EU in next week's referendum with the front page BeLEAVE. We speak to Trevor Kavanagh, associate editor of the Sun.
0720
After the killing of 49 people in Orlando, Muslims in America are once more finding themselves under an unwanted spotlight. BBC North America correspondent Aleem Maqbool reports from the Islamic Center of Orlando.
0730
European football's governing body, UEFA, meets today to discuss punishments for Russia's football federation after Saturday's violence inside the Stade Velodrome in Marseille in the Group B game against England. Dr Mark Doidge is senior research fellow in political activism in football at the University of Brighton and Damian Collins is member of House of Commons select committee for culture media and sport.
0740
As part of the programme's EU coverage, this week presenter Sarah Montague reports from Dover.
0750
More than 7,000 Iraqis have fled Fallujah in recent days through a safe corridor set up by Iraqi forces, who are working on opening a second protected route. Karl Schrembi is from the Norwegian refugee council.
0810
America has been mourning its dead after the mass murder in the gay night club at the weekend. In Soho - the heart of London's gay nightlife - thousands of people packed into Old Compton Street, the victim of a homophobic terror attack in 1999, for a two-minute silence. The BBC's Dave McMullan reports.
0820
If we voted to leave the EU - every region, group and recipient of EU funding in this country would still get the same amount of money. That is the pledge from the leave campaign today which is also highlighting EU officials expenses claims. Priti Patel is employment minister and member of cabinet and prominent leave campaigner.
0830
More on the EU referendum: Alan Johnson is former home secretary and Remain campaigner.
0840
This week Tate Modern - the most successful modern art gallery in the world - opens a new building to the public. More artwork and more artists from around the world will be on display in a new ten storey high building. Francis Morris is the director of the Tate Modern.  
0850
Government officials in Brazil have told the BBC there is an "almost zero" chance that visitors at this summer's Olympic Games in Rio de Janeiro will contract the Zika virus. The BBC's Brazil Correspondent, Wyre Davies reports.
0855
Led Zeppelin's Jimmy Page and Robert Hall are in a court in Los Angeles today to defend Stairway to Heaven against accusations of plagiarism. A psychedelic band called Spirit claims the guitar opening was lifted from its' instrumental track Taurus. Clinton Heylon, author of It's One For The Money, joins us on the programme