Main content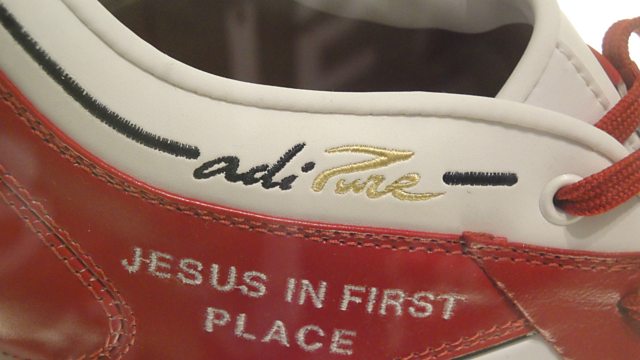 Football, 1975 referendum, The Queen
Religious and ethical news. Three football fans discuss their faith, Dr Robert Saunders on the role of religion during the 1975 referendum, plus a discussion on the Queen's faith.
As the nation celebrates the Sovereign's 90th Birthday, Mark Greene - co-author of 'The Servant Queen and the King She Serves' - talks to Edward Stourton about the Queen's faith.
There is currently a campaign in Australia to repeal a law which allows people to use a so-called 'gay panic' defence in murder cases; if someone makes a sexual advance, you can claim that was the reason you lost control and killed them. The growing demand to change this law is being led by Roman Catholic priest Fr Paul Kelly.
Hazel Southam visits St Luke's Church in Wolverhampton - which is on the Church of England's top ten endangered buildings list - to investigate the problems faced by congregations who find themselves in charge of historic buildings.
The Pan-orthodox Council taking place on Crete next week has been in the planning since the 1920s. In fact, the last one was held over 1000 years ago. Russian Orthodox priest Fr Cyril Hovorun explains why the alliance between the orthodox churches is so fragile.
Rosie Dawson speaks to Libby Lane and Philip North who have been the bishops of Stockport and Burnley for 18 months. They discuss their friendship, which has not always been easy as they hold opposing views on the ordination of women.
As EURO 2016 gets underway, three football fanatics discuss their faith and the beautiful game.
Historian Dr Robert Saunders talks to Edward about the churches' role during the 1975 EEC referendum campaign.
A UN committee has called on the British government to repeal a law that school children in the UK to take part in a daily act of Christian worship. Dr Alison Mawhinney analyses the UN's concerns.
Producers:
Helen Lee
David Cook
Series Producer:
Amanda Hancock.
Last on
Chapters
Collective Worship

The UN say children in the UK should be able to opt out of daily worship.

Duration: 04:36

'Gay Panic'

An Australian Priest campaigns against the controversial defence law.

Duration: 04:31

Football & Faith

Three football fanatics discuss their faith and the beautiful game.

Duration: 04:48

Bishops' Discussion

Bishops Libby Lane & Philip North discuss their friendship despite theological differences

Duration: 05:39

Pan Orthodox Meeting

It has taken 90 years to organise – why?

Duration: 03:57

Closed Churches

What should be done with churches when they are shut down?

Duration: 06:57

1975 Referendum

The churches' role during the 1975 EEC referendum campaign.

Duration: 06:09

Broadcast

All the colours of the rainbow