Main content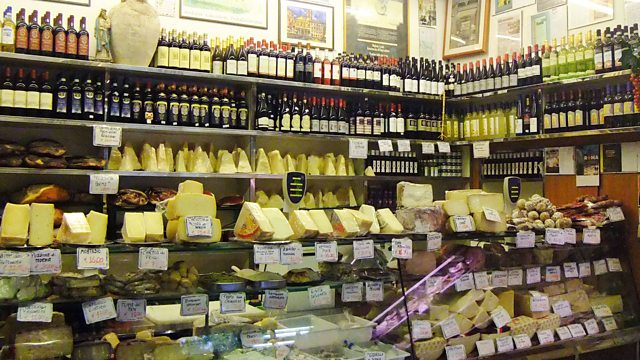 Joanna Robertson argues that when Romans go shopping for traditional local foods and delicacies they also buy into a local identity, something that is now under threat.
Joanna Robertson is a journalist and mother who has lived in five foreign countries, where she has observed that local shopping habits tell you a lot about the place. In these Essays, she argues that when people go shopping, they don't just purchase goods, they also buy into something else. Joanna Robertson takes us shopping with the locals and explores these ulterior motives and what they reveal about the residents of five cities: Rome, New York, Berlin, Tirana and Joanna's current home, Paris.
When Romans shop for traditional foods and delicacies in local family-run businesses, they also buy into a local identity - that's now under threat.
Italy was only unified in the nineteenth century, and local roots and identities often go deeper than national ones. One way that Romans express and nourish this local identity is by shopping in traditional family-run businesses that take pride in their products.
The "forno" bakery on Campo de' Fiori has counted the Borgias and Rossini among its regulars. In the Trastevere area, Romans queue up for the pizzas and black cherry tarts of the Boccioni kosher bakery that dates back to the eighteenth century.
However, many traditional shops are selling up because the children head into professions rather than behind the counter, or because of cash offers from mysterious buyers that the owners can't refuse. Previously legitimate family businesses like bars and restaurants are being taken over by the mafia, who keep the names and decor, but put in their own staff, and use ingredients from mafia controlled farms.
Romans are deeply distressed by how unrecognisable their city has become, and the erosion of identity that this has brought.
Producer: Arlene Gregorius.
More episodes
Previous
You are at the first episode
Photo of food store in Trastevere by Felix Semyonov