Main content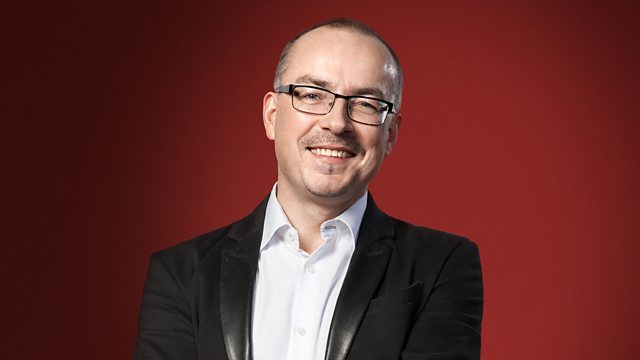 Building a Library: Bach: Funeral Ode for the Queen of Poland
With Andrew McGregor. Building a Library: Bach: Funeral Ode for the Queen of Poland; New releases, including Penderecki, Eotvos, Rautavaara, Cerha and van der Aa; Disc of the Week.
with Andrew McGregor
0930
Building a Library: Jonathan Freeman-Attwood recommends a recording of JS Bach's 'Funeral Ode' for the Queen of Poland BWV198 from among available versions.
This secular cantata was written on the death of Christiane Eberhardine, the Electress of Saxony and Queen of Poland, who was particularly beloved by the people of Saxony for her devotion to her Lutheran faith. Bach employed a rich orchestration and used what was reported to be an "Italian style" of composition. It is one of his very greatest cantatas and deserves to be much better known than it is.
1045
Tom McKinney talks to Andrew about a handful of new releases he has been listening to by Penderecki, Eotvos, Rautavaara, Friedrich Cerha and Michel van der Aa
1145
Disc of the Week: Andrew makes a personal choice from among the latest outstanding releases.
9.00am
Richard Strauss: Ein Heldenleben & Intermezzo: Four Symphonic Interludes
STRAUSS, R: Ein Heldenleben Op. 40; Intermezzo Op. 72: Four Symphonic Interludes
Melbourne Symphony Orchestra, Sir Andrew Davis (conductor)
ABC CLASSICS ABC4812425 (CD)
Albeniz: Orchestral Works
ALBENIZ: Suite espanola; The Magic Opal: Suite; Piano Concerto No. 1 (Concerto fantastico) Op. 78; Rapsodia Espanola (orchestrated Enescu)
Martin Roscoe (piano), BBC Philharmonic, Juanjo Mena (conductor)
CHANDOS CHAN10897 (CD)
Granada 1013-1526
Hesperion XXI, La Capella Reial de Catalunya, Jordi Savall (conductor)
ALIA VOX AVSA9915 (Hybrid SACD)
Feldman: Palais de Mari & Crumb: A Little Suite for Christmas
CRUMB, G: Processional; Little Suite for Christmas, AD1979
FELDMAN, M: Intermission V; Piano Piece (1952); Palais de Mari; Extensions 3
Steven Osborne (piano)
HYPERION CDA68108 (CD)
9.30am Building a Library
Jonathan Freeman-Atwood compares recordings of JS Bach's 'Funeral Ode' for the Queen of Poland BWV198, and recommends a version. 
Building a Library Recommendations
Top recommendation:
JS Bach: Cantatas BWV 27, 158 & 198 'Trauer-Ode'
BACH, J S: Cantata BWV198 'Lass, Furstin, lass noch einen Strahl' (Trauerode); Cantata BWV158 'Der Friede sei mit dir'; Cantata BWV27 'Wer weiss, wie nahe mir mein Ende?'
Rotraud Hansman (soprano), Helen Watts (alto), Kurt Equiluz (tenor), Max van Egmond (bass), Concerto Amsterdam, Monteverdi Chor Hamburg, Jurgen Jurgens
WARNER CLASSICS 2564647632 (CD)

Other recordings:
Below is a shortlist of other recordings which Jonathan Freeman-Atwood also liked, although we can't guarantee the availability of these discs.
Katharine Fuge (soprano), Carlos Mena (alto), Jan Kobow (tenor), Stephan Macleod (bass), Ricercar Consort, Philippe Pierlot (conductor)
MIRARE MIR030
Joanne Lunn (soprano), Robin Blaze (counter-tenor), Gerd Turk (tenor), Dominik Worner (bass), Bach Collegium Japan, Masaaki Suzuki (conductor)
BIS BIS2181

10.20am Stokowski Transcriptions
Leopold Stokowski: The Art of Orchestral Transcription
BACH, J S: Toccata & Fugue in D minor, BWV565; Orchestral Suite No. 3 in D major, BWV1068: Air ('Air on a G String'); Cantata BWV147 'Herz und Mund und Tat und Leben': Jesu, bleibet meine Freude; Wachet auf ruft uns die Stimme
BUXTEHUDE: Sarabande and Courante
BYRD: Pavane and Gigue
CHOPIN: Marche Funebre Op. 72 No. 2
CLARKE, JEREMIAH: Trumpet Voluntary 'Prince of Denmark's March'
FRANCK, C: Panis Angelicus
IPPOLITOV-IVANOV: In the Manger
MOZART: Turkish March
MUSSORGSKY: A Night on the Bare Mountain
PURCELL: When I am laid in earth (from Dido and Aeneas)
SHOSTAKOVICH: United Nations March
SOUSA: The Stars and Stripes Forever
TCHAIKOVSKY: Andante Cantabile (from String Quartet No. 1 in D Op. 11)
Cynthia Millar (ondes martenot), Patrick Addinall (trumpet), BBC Philharmonic, Matthias Bamert (conductor)
CHANDOS CHAN10900 (CD)
Stokowski: Transcriptions
BACH, J S: Sheep May Safely Graze, from Cantata BWV208; Fugue in G minor, BWV578 'Little'; Orchestral Suite No. 3 in D major, BWV1068: Air ('Air on a G String'); Toccata & Fugue in D minor, BWV565
BOCCHERINI: Minuet in A major from String Quintet Op. 11 No. 5, G275
MUSSORGSKY: A Night on the Bare Mountain
PURCELL: When I am laid in earth (from Dido and Aeneas)
STOKOWSKI: Traditional Slavic Christmas Music
TCHAIKOVSKY: Solitude ('Again, as before, alone') Op. 73 No. 6
WAGNER: Das Rheingold: Entrance of the Gods into Valhalla; Die Walkure: Ride of the Valkyries
Timothy Walden (cello), Bournemouth Symphony Orchestra, Jose Serebrier (conductor)
NAXOS 8578305 (CD budget)
Stokowski: Acoustic, Volume 3
RACHMANINOV: Piano Concerto No. 2; BIZET: Carmen – Prelude, Changing of the Guard, March of the Smugglers; L'Arlesienne – Spanish Dance; LISZT: Hungarian Rhapsody No. 2; BOCCHERINI: Quintet in E – Minuet; IPPOLITOV-IVANOV: Caucasian Sketches Suite No. 1 – Procession of the Sardar; CHOPIN: Prelude in E minor; MENDELSSOHN: A Midsummer Night's Dream – Scherzo; GLUCK: Orfeo ed Euridice: Dance of the Blessed Spirits; CHABRIER: Espana Rhapsody; KELLEY: Alice in Wonderland Suite – The Red Queen's Banquet; WAGNER: Tannhauser – Festmarsch (Part 1); TCHAIKOVSKY: Symphony No. 3 – 3rd movement, Scherzo (Part 2)
Sergei Rachmaninov (piano), Philadelphia Orchestra, Leopold Stokowski (conductor)
PRISTINE AUDIO PASC471 (Download and CD: https://www.pristineclassical.com/pasc471.html)
Tchaikovsky: Nutcracker Suite & Capriccio Italien
TCHAIKOVSKY: The Nutcracker Suite Op. 71a; Polonaise (from Eugene Onegin Op. 24); Waltz from Eugene Onegin Op. 24; Capriccio italien Op. 45
London Philharmonic Orchestra, Leopold Stokowski (conductor)
PENTATONE PTC5186229 (Hybrid SACD mid-price)
TCHAIKOVSKY: Hamlet Fantasy Overture, Op. 67; VAUGHAN WILLIAMS: Five Variants of Dives and Lazarus; SHOSTAKOVICH: Symphony No. 5 in D minor, Op. 47
London Symphony Orchestra, CBS Radio Orchestra, Leopold Stokowski (conductor) (Recorded 1954-1961)
GUILD HISTORICAL GHCD2426
10.50am New Releases of Contemporary music, with Tom McKinney
Tom McKinney talks to Andrew about a handful of new releases he has been listening to by Penderecki, Eotvos, Rautavaara, Friedrich Cerha and Michel van der Aa
Van der Aa: Violin Concerto & Hysteresis
AA: Violin Concerto; Hysteresis
Janine Jansen (violin), Royal Concertgebouw Orchestra, Vladimir Jurowski (conductor), Kari Kriikku (clarinet), Amsterdam Sinfonietta, Candida Thompson (conductor)
DISQUIET MEDIA DQM05 (CD)
Eotvos: DoReMi, Cello Concerto Grosso & Speaking Drums
EOTVOS: Cello Concerto Grosso; DoReMi (Violin Concerto No. 2); Speaking Drums
Jean-Guihen Queyras (cello), Midori (violin), Martin Grubinger (voice and percussion), Orchestre Philharmonique de Radio France, Peter Eotvos (conductor)
ALPHA ALPHA208 (CD)
Rautavaara: Rubaiyat, Balada, Cantov & Four Songs from Rasputin
RAUTAVAARA: Rubaiyat (Song cycle for baritone and orchestra); Into the Heart of Light (CantoV) for string orchestra; Balada for tenor, mixed choir and orchestra; Four Songs from the Opera Rasputin
Gerald Finley (bass-baritone), Mika Pohjonen (tenor), Helsinki Music Centre Choir, Helsinki Philharmonic Orchestra, John Storgards (conductor)
ONDINE ODE12742 (CD)
Friedrich Cerha: Nacht & Drei Orchesterstucke
CERHA: Nacht; Drei Orchesterstucke
WDR Sinfonieorchester Koln, WR Sinfonieorchester Baden-Baden und Freiburg, Emilio Pomarico, Jukka-Pekka Saraste (conductor)
KAIROS 0015005KAI (CD)
Penderecki: Concertos for String Instruments and Orchestra
PENDERECKI: Capriccio for violin & orchestra; Cello Concerto No. 1; Viola Concerto; Largo for Cello and Orchestra
Claudio Bohorquez, Ivan Monighetti, Patrycja Piekutowska, Jakob Spahn, Polska Orkiestra Sinfonia Iuventus, Krzysztof Penderecki (conductor), Maciej Tworek
DUX DUX1275 (CD)
Penderecki: Concertos for Wind Instruments and Orchestra
PENDERECKI: Fonogrammi; Capriccio for oboe & 11 strings; Concerto for horn & orchestra 'Winterreise'; Sinfonietta No. 2
Agata Kielar-Dlugosz (flute), Arkadiusz Krupa (oboe), Katerina Javurkova (horn), Polska Orkiestra Sinfonia Iuventus, Krzysztof Penderecki (conductor)
DUX DUX1274 (CD)
11.45am Disc of the Week
Brahms: Vier ernste Gesange
BRAHMS: Lieder und Gesange (9) Op. 32; Sommerabend Op. 85 No. 1; Mondenschein Op. 85 No. 2; Der Tod, das ist die kuhle Nacht Op. 96 No. 1; Es schauen die Blumen Op. 96 No. 3; Meerfahrt Op. 96 No. 4; Vier ernste Gesange Op. 121
Matthias Goerne (baritone), Christoph Eschenbach (piano)
HARMONIA MUNDI HMC902174 (CD)