Main content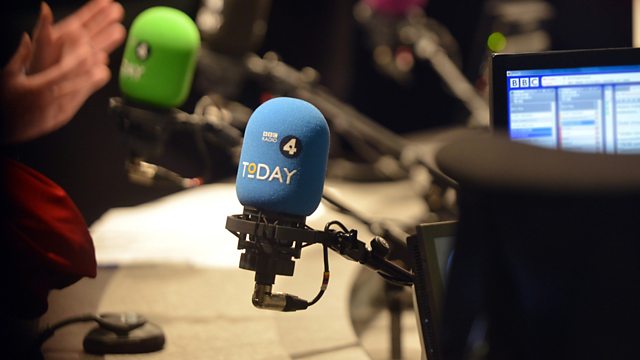 09/06/2016
News and current affairs. Including Sports Desk, Yesterday in Parliament, Weather, Thought for the Day.
Today's running order
All timings subject to change
0650
As part of BBC Radio 4's Inside Science antibiotics special, the team have swabbed areas of the BBC building and sent the samples to UCL to see whether they fight MRSA and other drug-resistant microbes – including Nick and Sarah's microphones. Adam Rutherford, presenter of Radio 4's Inside Science joins us on the programme.
0710
A senior Conservative MP, Sarah Wollaston, has revealed that she is no longer supporting the Leave campaign and will instead vote to stay in the EU. Dr Wollaston, chairman of the health select committee, said Vote Leave's claim that Brexit would free up £350m a week for the NHS "simply isn't true". She joins us on the programme.
0720
If you have a diesel car you could find your car tax is about to go up. The Transport Secretary Patrick McLoughlin said it had been a mistake for the former Labour chancellor Gordon Brown to cut taxes on diesel and that the chancellor would need to look at it in the future.  BBC reporter Zoe Conway reports.
0740
The Environmental Audit Committee says the government is failing to protect communities at risk of flooding. Their report warns that a reactive approach to funding for flood defence exposes the government's lack of long-term strategic planning to manage flood risk. Nicola Eades is coordinator of the Tadcaster Emergency Action Group and Practice Manager at Bridge Street Dental Surgery and Mary Creagh is Labour MP and chair of the Environmental Audit Committee.
0745
A hospital has been condemned by health inspectors for putting patients at "unacceptable risk" in its overcrowded A&E department. Professor Ted Baker is deputy chief inspector of hospitals at the Care Quality Commission and Tim Powell is interim chief executive for Portsmouth Hospitals NHS Trust.
0750
A man who has spent nearly 9 years in prison in the US for four murders that he did not commit has finally been released. Davontae Sanford, who is blind in one eye, was fourteen when he confessed to the 2007 killings at a drug house in Detroit. Sarah Montague spoke to his mother.
0810
Today is a special "Question Day" across BBC News. We asked you, our listeners, to send in your questions on the EU referendum for us to put to the BBC's finest minds on Europe, politics, business, economics and home affairs. The BBC's editors join us on the programme.
0820
In explosive testimony about the failure of BHS at the Business Select Committee, the firm's former chief executive has accused its former owner, Dominic Chappell, of threatening to kill him. Should unlisted companies have to face regulation in the same way as listed ones? Oliver Parry is head of Corporate Governance at the Institute of Directors.
0840
The referendum could face a legal challenge after the deadline for voter registration was extended. The insurance millionaire and funder of the Leave EU campaign Arron Banks is considering launching a judicial review. A Britain Stronger in Europe source said Mr Banks was entitled to spend his money as he wished. The BBC's political correspondent Ross Hawkins joins us.
0845
A man who claims to be attracted to young men and adolescent boys in Belgium is trying to end his life through euthanasia. BBC reporter Jonathan Blake spoke to the man.  
0850
The lawyer of an 11-year-old disabled child who was severely restrained was particularly critical of the police's use of a spit hood. Bernard Allen, former head teacher who specialised in challenging behaviour, joins us on the programme.
0855
How do you explain the refugee crisis to your children? In the past few years, several authors in Germany have attempted to answer to this question by writing books about integration, conflict and being a refugee. Kirsten Boie, one of Germany's best-known authors of modern children's books, joins us on the programme.