Main content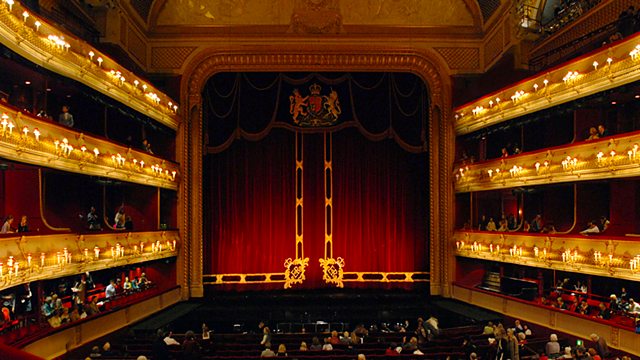 Enescu's Oedipe
Live from the Royal Opera House in Covent Garden, a rare performance of Enescu's Oedipe. With Johan Reuter, John Tomlinson, Sophie Bevan, Sarah Connolly and Marie-Nicole Lemieux.
Oedipus, the man who unwittingly murdered his father and married his mother is one of the most resonant mythical archetypes of Western culture; and tonight's live relay from the Royal Opera House, Covent Garden is an opportunity to hear a rare performance of Romanian composer Georges Enescu's powerful retelling of the story in his opera, Oedipe. Whereas the great dramatists of Ancient Greece focused on specific events in the life of Oedipus, Enescu's opera covers the whole narrative from birth to death. The highly individual musical style combines a rich harmonic idiom with subtle orchestration. The gorgeous, shimmering sounds of the scene with the Sphinx is one of the highlights of the score. This new production from the iconoclastic Catalan company, La Fura dels Baus, is conducted by Leo Hussain with a cast that includes Johan Reuter, John Tomlinson, Sophie Bevan, Sarah Connolly and Marie-Nicole Lemieux.
Presented by Andrew McGregor who is joined by composer and broadcaster William Mival to discuss the opera; including interviews with members of the cast.
7.15pm: Acts I & II
c.8.35pm: Interval
c.9.05pm: Acts III & IV
Enescu: Oedipe
Oedipe ..... Johan Reuter (tenor)
Tirésias ..... John Tomlinson (bass)
Antigone ..... Sophie Bevan (soprano)
Mérope ..... Claudia Huckle (contralto)
Jocaste ..... Sarah Connolly (mezzo-soprano)
The sphinx ..... Marie-Nicole Lemieux (contralto)
A shepherd ..... Alan Oke (tenor)
The Theban High Priest ..... Nicolas Courjal (bass)
Laïos ..... Hubert Francis (tenor)
Créon ..... Samuel Youn (bass-baritone)
Phorbas ..... In Sung Sim (bass)
The watcher ..... Stefan Kocan (bass)
Thésée ..... Samuel Dale Johnson (baritone)
Theban woman ..... Lauren Fagan (soprano)
The Chorus of the Royal Opera House, Covent Garden
The Orchestra of the Royal Opera House, Covent Garden
Leo Hussain (conductor)a.
Synopsis
Act I
The palace at Thebes
The people of Thebes celebrate the birth of a son to King Laïos and Queen Jocaste. The blind prophet Tirésias interrupts the celebrations to announce that the child, born in defiance of the gods, is destined to kill his father and marry his mother. Terrified, Laïos and Jocaste order the Shepherd to take the baby to the gorge of Cithaeron and leave him to die of exposure.
Some twenty years have passed. The Shepherd ignored Laïos' instructions, and gave the baby to Phorbas, who exchanged him with the dead son of King Polybos and Queen Mérope of Corinth. Oedipe has been raised as the couple's son, ignorant of his true parentage.
Act II
Scene 1: The city of Corinth
Oedipe has heard through an Oracle of his destiny: he will kill his father and marry his mother. He believes that this means that he will kill Polybos and marry Mérope. Mérope comes to ask Oedipe why he is not taking part in the city's celebrations of Aphrodite and Adonis, and tries to calm him by telling him that the rumour that he is a foundling is false. Oedipe tells Mérope that he has dreamt that he killed his father Polybos, and married Mérope. He decides to leave Corinth to prevent this happening.
Scene 2: At the crossroads
The Shepherd who saved Oedipe's life plays his pipe. A storm approaches. Oedipe enters, cursing the gods and Fate. Laïos and his entourage arrive at the crossroads, and assume that Oedipe is threatening them. They fight, and Oedipe kills Laïos and his men.
Scene 3: Outside the gates of Thebes
Oedipe learns from the Watchman that a fierce beast – the Sphinx – is ravaging the population of Thebes by devouring any passer-by who cannot solve her riddles. The person who solves one of the Sphinx's riddles will cause her to die, and thus save Thebes.
Oedipe wakes the Sphinx, who asks a riddle: 'Name someone or something that is greater than Destiny'. Oedipe answers that Man is greater than Destiny. The Sphinx commits suicide – though as she dies she seems almost to be laughing in triumph. Oedipe feels unexpectedly uneasy, but the people of Thebes welcome him as a hero, and offer him the prize for defeating the Sphinx: the kingdom and marriage to the widowed queen, Jocaste.
Act III
A square in Thebes
Oedipe has ruled Thebes well for twenty years. He and Jocaste have had several children, and the city has prospered. Now, however, Thebes is struck with plague. Jocaste's brother Créon has consulted an oracle, and reports that the plague will continue to rage until Laïos' murderer is punished. Créon has asked Tirésias to help him discover the killer.
Tirésias reluctantly reveals that it is Oedipe, and moreover that Laïos was Oedipe's father, and Jocaste is his mother. Oedipe initially believes that Tirésias' announcement is part of a plot orchestrated by Créon to depose him, but when first Phorbas and then the old Shepherd reveal the facts of his birth, he realizes that Tirésias has told the truth. Oedipe confesses his guilt to his people; Jocaste commits suicide at the news that she has married her son. To atone for his wrongdoing, Oedipe blinds himself and leaves Thebes to begin a life of wandering, accompanied by his daughter Antigone.
Act IV
A grove near Athens
Oedipe and Antigone have spent years wandering the country. They are now on the outskirts of Athens, ruled by King Thésée. Créon comes to find them. He wants Oedipe to return to Thebes as king, as an Oracle has prophesied that the city where Oedipe shall die will be blessed and glorious. Oedipe refuses. To force him to obey, Créon attempts to abduct Antigone. Thésée interrupts the abduction, and Créon denounces Oedipe for incest and parricide. Oedipe answers that he is innocent, as he never intended to commit either crime.
The voices of the Furies, transformed into the peaceful protectors of Athens, are heard calling to him, and Oedipe orders Thésée to lead him to his final resting place. As Oedipe vanishes, the Furies pronounce his absolution: 'Happy is he whose heart is pure. Peace be upon him!'
- With thanks to the Royal Opera House