Main content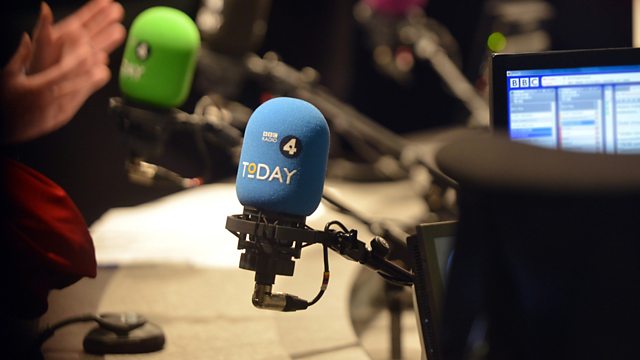 02/06/2016
Morning news and current affairs. Including Sports Desk, Weather and Thought for the Day.
Last on
Today's running order
0650
The Commons Environmental Audit Committee warns that tracts of polluted soil are a potential health hazard in many towns because the government has stopped grants to decontaminate them. Mary Creagh is chair of environmental audit committee.
0710
A British father and a Salvadoran mother are finally bringing their biological baby back to their family home in the USA, nine months after finding out that their son had been swapped in a hospital at birth. Bernhard Garside is the British Ambassador to El Salvador.
 0720
The Church of England says it's failing to recruit enough new clergy to replace a large number of priests who are expected to retire in the next ten years. Reverend Rose Hudson-Wilkin is Speaker of the House of Commons and chaplain to the Queen. Reverend Peter Ould is Church of England priest based in Canterbury.
0730
Jeremy Corbyn will warn today that quitting the European Union would be a 'disaster' for ordinary Britons because the Conservatives cannot be trusted to protect workers' rights. Owen Smith is shadow work and pensions Secretary.
0740
New research led by the Trimontium Trust at Burnswark hill fort in Scotland has demonstrated that it fell victim to a brutal Roman assault. Dr John Reid is chairman of the Trimontium Trust, a Roman history society based in the Scottish Borders.
0750
The first report comparing NHS staff by ethnicity has found that in three quarters of acute trusts, black and minority ethnic staff are more likely to have been harassed, bullied or abused by colleagues, when compared to white staff. Elsie Gayle is a former NHS midwife and Joan Saddler is co-chair of the NHS Equality and Diversity Council and associate director at the NHS Confederation.
0810
More on the British father and Salvadoran mother whose baby was swapped at birth: The programme's chief correspondent, Mathew Price, reports from Dallas.
0820
A new virtual reality experience using ordinary smartphones will give people an understanding of what it is like living with the condition. Using a special viewer, computer-generated environments and 360 degree video, it illustrates in detail how day to day life can become a challenge for someone with dementia. Hilary Evans, CEO of Alzheimers Research UK.
0830
George Osborne and the former Labour Chancellor Alistair Darling have written an open letter challenging the Vote Leave campaign over its economic claims, which they say are "uncosted and unworkable".  Alistair Darling and Professor Patrick Minford, co-chair of economists for Brext join us on the programme.  
0840
Venezuelan President Nicolas Maduro has used colourful language to lambast the head of regional body, Organization of American States (OAS), Luis Almagro. His remarks came after Mr Almagro called an emergency meeting over Venezuela's "institutional crisis", a move which could lead to Venezuela's expulsion from the OAS. Reynaldo Trombetta is a Venezuelan journalist.
0850
Paul Simon has one of the most distinguished songbooks in pop music. His 12th solo album, Stranger to Stranger, comes out this week and it finds the musician exploring themes of social injustice, aging and death. He spoke to BBC Music's Mark Savage about the making of the record.
0855
'New Blood', a new seven-part crime drama series written by Anthony Horowitz, premieres exclusively on BBC iPlayer ahead of its transmission on BBC One on 9th June, becoming the first prime time drama series to do so. Anthony Rose is former head of BBC iPlayer and Cat Lewis is CEO of the independent production company Nine Lives.
All timings subject to change.
Broadcast