Main content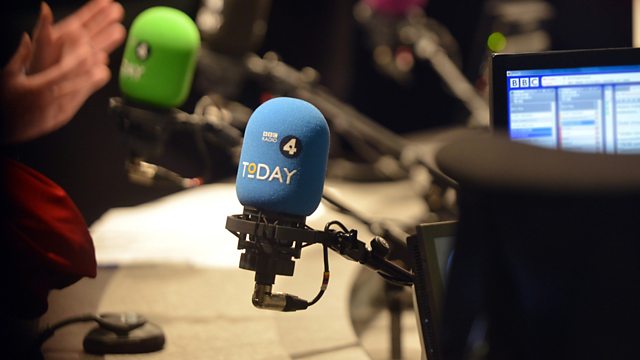 20/05/2016
Morning news and current affairs. Includes Sports Desk, Yesterday in Parliament, Weather and Thought for the Day.
Today's running order
0650
Who will be next after Hull to win the accolade of being the UK City of Culture in 2021? Cities are competing for the title. The BBC's Nick Hingham reports from Hereford.
0710
The RAF and Royal Navy have joined the search for wreckage from the EgyptAir flight that disappeared over the Mediterranean early yesterday. Graham Braithwaite is director of safety and accident investigation centre at Cranfield University.
0715
Unprecedented overspends by hospitals and other NHS trusts is expected to be announced later by health bosses. The size of the deficit could even mean that the Department of Health busts its own spending limits and has to be rescued by the Treasury. David Bennett is former CEO of Monitor.  
0720
As part of our EU referendum coverage we hear from voters around the country as they make up their minds. The BBC's Ross Hawkins reports from Greater Manchester.
0730
The Nigerian military say that a second schoolgirl kidnapped by Boko Haram militants more than two years ago from Chibok School has been rescued. Garba Shehu is spokesperson for Nigeria Mohamadu Buhair.
0740
Its 30 years this week since the release of Top Gun. The soundtrack spent five weeks at number one in the charts that year and went on to be one of the best-selling film soundtracks of all time. Justin Webb has been reminiscing with the man who wrote the Top Gun anthem, German composer, Harold Faltermeyer.
0750
More on the NHS's deficit: Chris Hopson is chief executive of NHS Providers.
0810
More on the search for the wreckage from the EgyptAir flight that disappeared yesterday: Mike Vivian is former head of Flight Operations at the Civil Aviation Authority and also former security adviser to Virgin Atlantic.  
0820
Is Daniel Craig 'done' with playing James Bond? A source has said he turned down a £68million offer to play in the next two movies. Last year he said he would "rather slash [his] wrists" than make a fifth Bond film. Ajay Chowdhury is editor of the journal of the James Bond International Fan Club, KISS KISS BANG BANG. Karen Krizanovich is a film critic.
0840
We have heard a lot about farmers' views in this referendum campaign, but what about the potential effect of Brexit on other businesses that provide our food, and could leaving the EU affect how much we pay for it? Phil Hogan is EU commissioner for Agriculture.
0850
North Yorkshire council is today considering a planning application that could kick-start the controversial process of fracking for shale gas in the UK. Rasik Valand is CEO of Third Energy.
All timings subject to change