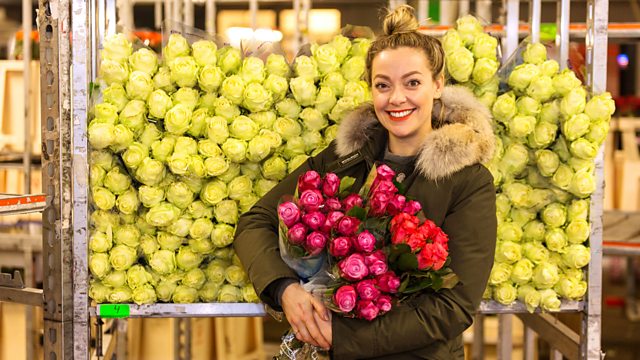 The World's Biggest Flower Market
Cherry Healey and Simon Lycett tell the story of how the flowers we buy travel across the world via Aalsmeer Flower Auction in Holland to reach us every day in pristine condition.
We reach for flowers to express our most fundamental human emotions - from passionate love to abject apology, joyful celebration of our mums or profound grief of a loved one. We relish our flowers so much that this year we are predicated to spend £2.2 billion on treating ourselves and others to the prefect bouquet.
Cherry and Simon, florist to the Royal Palaces, tell the miraculous story of how the flowers we buy in our florists and supermarkets travel across the globe to reach us every day in pristine condition. We follow three of Britain's favourite flowers, the rose, the tulip and the lily during the busiest time of year, Mother's Day, via Aalsmeer Flower Auction in Holland and its nearby sister markets, which together make up the biggest flower market on earth. Affectionately dubbed 'the Wall Street of Flowers', almost 30 million flowers and plants arrive every day to be bought and sold in its high-paced auctions with over £3 million changing hands daily.
And away from the market, Simon and Cherry continue to explore the cut flower industry. Simon visits Kenya to find out where his beloved rose starts life. And Cherry meets a conscientious tulip breeder who has dedicated a staggering 25 years of his life to breeding stunning new varieties of tulips.
It's an extraordinary story of incredible logistics - one in which science, technology and human ingenuity combine to meet the demands of a multibillion-pound industry built around something as romantic and ephemeral as a flower.
Credits
| Role | Contributor |
| --- | --- |
| Producer | Ruairi Fallon |
| Director | Ruairi Fallon |
| Presenter | Cherry Healey |
| Presenter | Simon Lycett |