Main content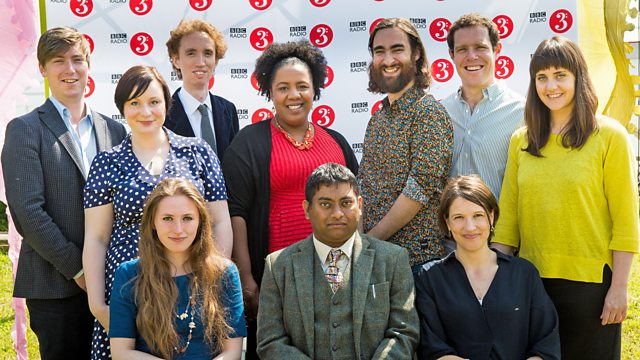 Hay Festival: New Generation Thinkers 2016
Rana Mitter introduces the ten academics named as the New Generation Thinkers for 2016. They share interesting facts from their research with an audience at Hay Festival.
Find out who have been named as the 10 New Generation Thinkers for 2016 as they join Rana Mitter to share interesting facts from their research with the audience at this week's Hay Festival. Topics include the history of the hairdresser to the search for Alexander the Great's missing tomb; why Sigmund Freud detested the telephone to the complex relationship between the USSR and its historic churches.
New Generation Thinkers is a scheme run by BBC Radio 3 in partnership with the Arts and Humanities Research Council to find academics who can turn their research into radio programmes. You can hear more from the New Generation Thinkers who will be appearing on Free Thinking throughout June and find out more from our website.
The New Generation Thinkers 2016:
Leah Broad, University of Oxford
Leah Broad's research is on Nordic modernism, exploring the music written for the theatre at the turn of the 20th century, taking her to Finland and Scandinavia to search out scores which have not been heard since the early 1900s. As a journalist Leah won the Observer/Anthony Burgess Prize for Arts Journalism in 2015. She is the founder of The Oxford Culture Review
Katherine Cooper, University of Newcastle
Katherine Cooper is working on a project exploring the ways in which British writers including H.G. Wells, Graham Greene and Margaret Storm Jameson helped in the escape of fellow writers facing prosecution and imprisonment under fascist governments in the period between WWI and WWII.
Victoria Donovan, University of St Andrews
Victoria Donovan's is a historian of Russia whose research explores the complex and contradictory relationship between the Soviets and their religious heritage. Her new project is looking at the significance of patriotism in contemporary Putin's Russia. She has worked on topics including Soviet and contemporary Russian cinema, socialist architecture and the connections between South Wales and the Eastern Ukraine.
Louisa Uchum Egbunike, Manchester Metropolitan University
Louisa Uchum Egbunike's research centres on African literature in which she specialises in Igbo (Nigerian) fiction and culture. Her latest work explores the child's voice in contemporary fiction on Biafra. She co-convenes an annual Igbo conference at SOAS (School of Oriental and African Studies, University of London) and is curating a 'Remembering Biafra' exhibition to open in 2018.
Seb Falk, University of Cambridge
Seb Falk is a medieval historian and historian of science whose research centres on the scientific instruments made and used by monks, scholars and nobles in the later Middle Ages. His research has led him to made wood and brass models of the instruments he studies. His new project will be an investigation of the sciences practised by medieval monks and nuns.
Sarah Jackson, Nottingham Trent University
Sarah Jackson's current research explores the relationship between the telephone and literature from the work of Arthur Conan Doyle to that of Haruki Murakami. The project involves research at the BT Archives which hold the public records of the world's oldest communications company. She is also a poet whose collection Pelt won the prestigious Seamus Heaney Prize in 2012.
Christopher Kissane, London School of Economics
Christopher Kissane is a historian working on the role of food in history exploring what we can learn about societies and cultures through studying their diets. His book, which will be published later this year, examines food's relationship with major issues of early modern society including the Spanish Inquisition and witchcraft.
Anindya Raychaudhuri, University of St Andrews
Anindya Raychaudhuri is working on the way nostalgia is used by diasporic communities to create imaginary and real homes. He has written about the Spanish Civil War and the India/Pakistan partition and the cultural legacies of these wars. He co-hosts a podcast show, State of the Theory, and explores the issues raised by his research in stand up comedy.
Edmund Richardson, University of Durham
Edmund Richardson is working on a book about the lost cities of Alexander the Great and the history of their discovery by adventurers and tricksters rather than scholars. His first book was on Victorian Britain and the 'lowlife' lived by magicians, con-men and deserters. His latest project is on Victorian ghost-hunters and their obsession with the ancient world which led Houdini to fight against the con-artists making a fortune from fake 'spirits'.
Sean Williams, University of Sheffield
Sean Williams is currently writing a cultural history of the hairdresser from the 18th century to the present day exploring their role as 'outsiders' in society. As a lecturer at the University of Berne in Switzerland he taught German and Comparative Literature and wrote articles on flatulence in the 18th century and contemporary satires of Hitler.
Credits
| Role | Contributor |
| --- | --- |
| Presenter | Rana Mitter |
| Interviewed Guest | Leah Broad |
| Interviewed Guest | Katherine Cooper |
| Interviewed Guest | Victoria Donovan |
| Interviewed Guest | Louisa Uchum Egbunike |
| Interviewed Guest | Seb Falk |
| Interviewed Guest | Sarah Jackson |
| Interviewed Guest | Christopher Kissane |
| Interviewed Guest | Anindya Raychaudhuri |
| Interviewed Guest | Edmund Richardson |
| Interviewed Guest | Sean Williams |
| Producer | Fiona McLean |
Featured in...
From aubergines to frostbite via finger-counting.