Main content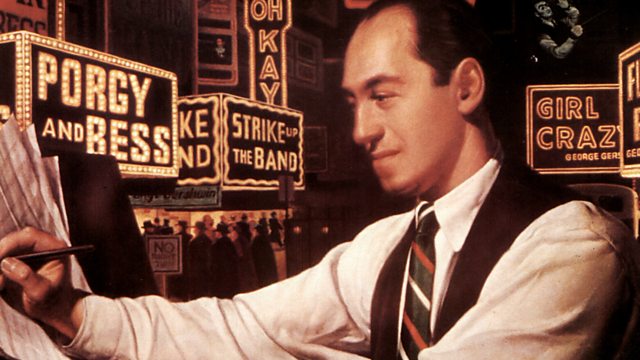 Donald Macleod explains how Gershwin moved in an entirely new direction, creating his own brand of musical satire. Including An American in Paris and The Man I Love.
This week Donald Macleod explores the life and music of George Gershwin. Today Gershwin moves in an entirely new direction, creating his own brand of musical satire.
A life cut short, George Gershwin died in 1937 of a brain tumour at the age of just 38. Yet this isn't a story of what might have been. Gershwin's musical legacy stands as one of admirable achievement. He wrote a string of twelve Broadway musicals, orchestral music and an opera. He penned some of the most recorded tunes in the popular song catalogue of all time. We'll hear many of them across the week, in classic versions made by some of the twentieth century's legendary voices, including Frank Sinatra, Ella Fitzgerald, Sarah Vaughan, Louis Armstrong, Fred Astaire and Judy Garland. Outside the sphere of popular music, Gershwin's orchestral music won plenty of public support although his critical reception was mixed. Nonetheless among his supporters were significant figures in the classical world such as the New York Philharmonic's Walter Damrosch.
Despite the breadth of his appeal, his professional standing and his wealth, Gershwin remained a man who never felt truly confident in his own musical knowledge, perhaps because his musical education had been limited by circumstance. He was born in 1898 in New York, the second son of Jewish immigrant parents, Morris and Rose Gershowitz. As a child George excelled on roller-skates rather than school-work. Leaving altogether at the age of 14 he was pounding away on a piano in Tin Pan Alley for 10 hours a day. Success came early though when he persuaded Al Jolson to record his song "Swanee". The two million records it sold made George a comfortable pile, and from there on, as they say, "the rest is history".
Following a meeting in Atlantic City with the producer Edgar Selwyn, Gershwin and his lyricist writing brother Ira, are invited to work on a satire on war written by George S. Kaufman, the man behind the Marx Brothers production of The Cocoanuts. What came out of the collaboration was "Strike Up The Band" a musical unlike anything the Gershwins had ever written before.
Oh This Is Such A Lovely War (Strike up the Band, Act 2)
Chorus and orchestra conducted by John Mauceri
I've Got A Crush on You (Strike Up The Band, rev. 1930)
Ella Fitzgerald
Ellis Larkins, piano
Wintergreen For President ...Of Thee I Sing (Of Thee I Sing, Act 1)
Paige O'Hara, Diana Devereaux
Maureen McGovern, Mary Turner
Louise Eideken, Miss Benson
Larry Kert, John P. Wintergreen
Merwin Goldsmith, Louis Lippmann
George Dvorsky, Sam Jenkins
New York Choral Artists
Orchestra of St. Luke's
Michael Tilson-Thomas, conductor
An American In Paris
New York Philharmonic
Leonard Bernstein, conductor
The Man I Love
Sarah Vaughan
Hal Mooney and his Orchestra.