Main content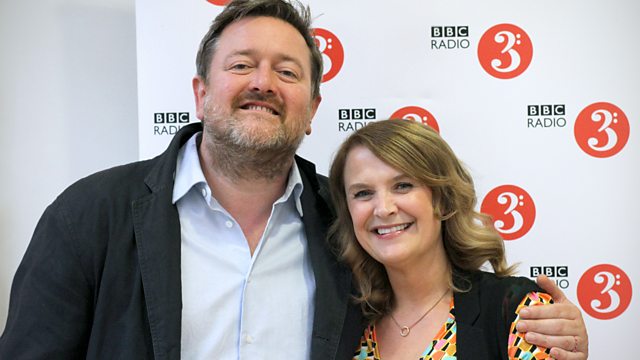 Wednesday - Sarah Walker with Guy Garvey
With Sarah Walker. Including My Favourite British String Music; Musical challenge; Music in Time: Paganini caprices; The Bach Choir in Bach's St Matthew Passion (excerpt).
9am
My favourite... British string music. We'll hear a mixture of favourites including Elgar's Serenade for Strings and the Fantasia on Greensleeves by Vaughan Williams, along with lesser-known works by Charles Avison and Frederick Delius.
9.30am
Take part in today's musical challenge: trace the classical theme behind a well-known song.
10am
Sarah's special guest, especially for the week of BBC Music Day, is the musician, composer and broadcaster Guy Garvey. He's the front man of rock band Elbow, who have released six studio albums, won the Mercury Music Prize, headlined at Glastonbury and performed a specially written song for the closing of the 2012 Olympics in London. Guy also released a solo album last year, which reached the top three of the album charts. He's won Ivor Novello Awards for songwriting and presents his own programme 'The Finest Hour' on BBC 6 Music. Every day at 10am Guy will be choosing a selection of his favourite classical music including pieces by Puccini, Françaix and Mendelssohn.
10.30am
Music in Time: Romantic
Sarah features a piece from the BBC4 series Revolution & Romance: Musical Masters of the 19th century. She reveals the virtuosity of Paganini's dramatic writing for violin in a selection of his caprices, including the most well known, number 24. This was known for years as the most fiendishly difficult violin piece ever written, and dozens of composers were inspired to use it as the theme for sets of variations - from Liszt and Rachmaninov to Andrew Lloyd Webber.
11am
In the week of BBC Music Day, a UK-wide celebration of everything we love about music, Sarah features choral societies from England, Scotland, Ireland and Wales including the Huddersfield Choral Society, the Edinburgh Festival Chorus, Belfast Philharmonic Society Chorus and the Treorchy Male Voice Choir.
J.S. Bach
St Matthew Passion (excerpt)
Felicity Lott (soprano)
Alfreda Hodgson (contralto)
Robert Tear (tenor)
Bach Choir
Thames Chamber Orchestra
David Willcocks.
Music Played
MY FAVOURITE...BRITISH STRING MUSIC

GUY GARVEY'S CHOICE NO.1

GUY GARVEY'S CHOICE NO.2

MUSIC IN TIME: ROMANTIC

ARTIST OF THE WEEK: BRITISH CHORAL SOCIETIES
Classical Roots
Answer: Emerson, Lake and Palmer's 'Knife Edge' is based on the opening of Janacek's Sinfonietta
The music played:
Emerson, Lake and Palmer
Knife Edge
LONDON RECORDS 90 LIMITED