Main content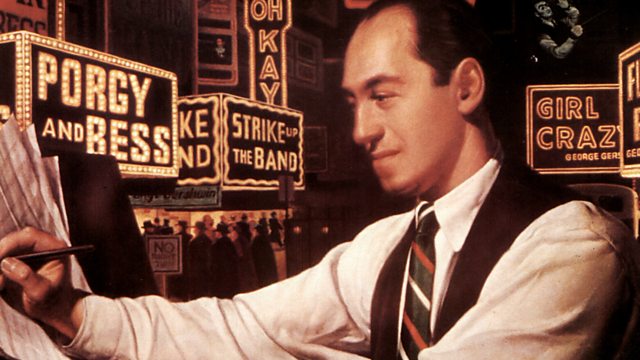 Donald Macleod describes how Gershwin drew in the crowds on Broadway and in the concert hall. Including Swanee, Oh Lady Be Good, Lullaby, Rhapsody in Blue and Fascinating Rhythm.
This week Donald Macleod explores the colourful life and music of George Gershwin. Today Gershwin brings in the crowds on Broadway and in the concert hall.
A life cut short, George Gershwin died in 1937 of a brain tumour at the age of just 38. Yet this isn't a story of what might have been. Gershwin's musical legacy stands as one of admirable achievement. He wrote a string of twelve Broadway musicals, orchestral music and an opera. He penned some of the most recorded tunes in the popular song catalogue of all time. We'll hear many of them across the week, in classic versions made by some of the twentieth century's legendary voices, including Frank Sinatra, Ella Fitzgerald, Sarah Vaughan, Louis Armstrong, Fred Astaire and Judy Garland. Outside the sphere of popular music, Gershwin's orchestral music won plenty of public support although his critical reception was mixed. Nonetheless among his supporters were significant figures in the classical world such as the New York Philharmonic's Walter Damrosch.
Despite the breadth of his appeal, his professional standing and his wealth, Gershwin remained a man who never felt truly confident in his own musical knowledge, perhaps because his musical education had been limited by circumstance. He was born in 1898 in New York, the second son of Jewish immigrant parents, Morris and Rose Gershowitz. As a child George excelled on roller-skates rather than school-work. Leaving altogether at the age of 14 he was pounding away on a piano in Tin Pan Alley for 10 hours a day. Success came early though when he persuaded Al Jolson to record his song "Swanee". The two million records it sold made George a comfortable pile, and from there on, as they say, "the rest is history".
As a song plugger on Tin Pan Alley Gershwin was introduced to Fred and his sister Adele, going on a few years later to produce a Broadway musical for them, "Lady Be Good" and establishing himself as concert pianist, taking five curtain calls at the premiere of his jazz concerto "Rhapsody in Blue".
That Certain Feeling
George Gershwin, piano
Swanee
Al Jolson
Oh Lady Be Good
Fred Astaire
The Oscar Peterson Trio
Lullaby
Brodsky Quartet
Rhapsody in Blue
George Gershwin, piano roll
Members of the Columbia Jazz Band
Michael Tilson-Thomas, conductor
Fascinating Rhythm (Lady be Good)
John Pizzarelli, Jeff White
Lara Teeter, Dick Trevor
Ann Morrison, Susie Trevor
Cast Ensemble,
Orchestra conducted by Eric Stern
I'd Rather Charleston (Lady Be Good)
Lara Teeter, Dick Trevor
Ann Morrison, Susie Trevor
Orchestra conducted by Eric Stern.
More episodes
Previous
You are at the first episode