Main content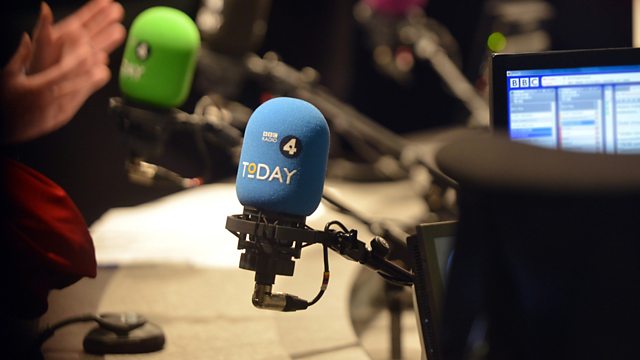 01/06/2016
Morning news and current affairs. Including Sports Desk, Weather and Thought for the Day.
Last on
Today's running order
0650
A new report says the government should do more to justify its plans to build a £250million lorry park near the M20 - to help ease congestion at the Port of Dover and the Channel Tunnel.  Louise Ellman is chair of the transport select committee.
0710
A snapshot survey of people with the motor neurone disease in England, Wales and Northern Ireland found one in five had to wait more than a year to see a suitable specialist after going to their GP. We speak to Sophie Keats, daughter of Bob Keats who was diagnosed with motor neurone disease and Dr Brian Dickie is a neuroscientist and director of research at the Motor Neurone Disease Association.
0715
After more than 40 years, the survivors and families of the victims of the 1974 Birmingham pub bombings will find out if the inquest into the deaths of 21 people will be resumed. Chris Mullin is a former MP and an investigative journalist who was instrumental in freeing the six men wrongly convicted of the Birmingham pub bombings.
0720
The world's longest rail traffic tunnel, the Gotthard Base Tunnel, opens today between Switzerland and Italy - it is 35.5 miles long. Martin Knights is managing director of an international tunnelling company involved in Crossrail and HS2 and former President of the International Tunnelling Association based in Lausannae in Switzerland.
0730
The Trades Union Congress (TUC) will today call on its members to vote to stay in the EU, arguing that wages in the UK could be £38 a week lower if the UK leaves the EU. However not all unions agree with them. Frances O' Grady is general secretary of TUC and Mick Cash is general secretary of the Rail, Maritme and Transport union (RMT).
0740
Britons living in Spain who have been there for less than 15 years will have a vote in the EU referendum. Some in the Remain campaign have claimed that those Brits who are not entitled to vote could effectively become illegal immigrants however Brexit supporters disagree. BBC reporter Zoe Conway reports from Marbella.
0750
A mother and her civil partner have been found guilty of murdering her two-year-old son in Fife. Social services had been alerted to the family but had failed to take any action. Tricia Hall is manager of Scottish Association of Social Workers.
0810
More on the pending inquest of the Birmingham pub bombings: Julie Hambleton is sister of Maine Hambleton who died in the bombings. Kieran Conway is former head of IRA intelligence and now a lawyer in Dublin.
0820
Carla Lane, the creator of the 1980s sitcom Bread and many other popular TV programme, has died at the age of 87. She later became known for looking after hundreds of rescue animals in a sanctuary at her mansion in Sussex. Jean Boht played Nellie Boswell in Bread.
0830
The UK could have a "fairer, more humane" immigration system that would work better for the economy if it left the EU, leading Leave campaigners say. Gisela Stuart is Labour MP who co-chairs the Vote Leave campaign.
0840
For more than two years the city of Fallujah has been held by the so-called Islamic State.  In the past eight days the city has been under siege by Iraqi forces supported by American air power trying to drive them out. Colonel Chris Garver is chief of Public Affairs for Combined Joint Task Force.
0850
London's Lost Worlds of Sound is a collection of work by sound archivist Ian Rawes who started gathering unusual recordings documenting everyday life in London back in 2008. They illustrate how people's lives in London have changed. He joins us on the programme.  
0855
After a decline in popularity, MDMA or ecstasy is making a comeback as the stimulant drug of choice for young people across Europe and the UK, according to the 2016 European Drug User Report, which also says the drug is increasing in strength. Val Curran is professor of psychopharm at UCL and Mike Power is an author and journalist specialising in drugs, technology and the internet.
All timings subject to change
Broadcast