Main content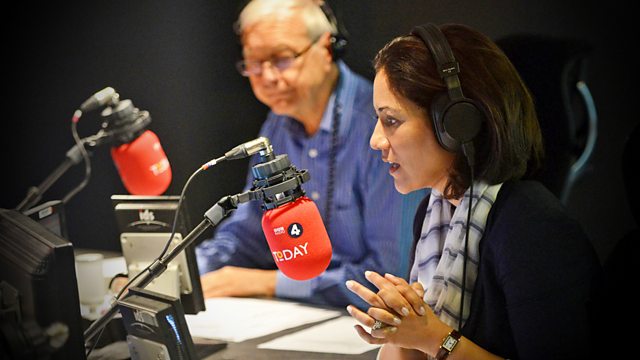 30/05/2016
Morning news and current affairs. Including Sports Desk, Weather and Thought for the Day.
Today's running order
0650
A SAMBA (Simple Amplification Based Assay) is a HIV diagnostic kit specifically made for developing countries. It offers patients their results within two hours and does not require laboratories or specialist technicians to carry out the test. Professor Helen Lee is from the department of Haematology.
0710
Immigration enforcement officials are continuing to question 20 people, believed to be Albanian migrants, who were rescued from a boat off the Kent coast at the weekend. They reportedly alerted their families in Calais, after running into difficulties.  John Vine is former independent chief inspector of Border and Immigration.
0720
Thousands of prisoners are in jail because they cannot prove to a parole board that they are no longer a risk. They are serving an indeterminate sentence called an IPP - which stands for Imprisonment for Public Protection - it means they were given a minimum sentence but no release date. Juliet Lyon is director of the Prison Reform Trust.
0725
A senior Labour activist, Jackie Walker, who was suspended from the party over alleged anti-Semitic comments on Facebook, has been reinstated. She joins us on the programme.
0730
The Charity Commission has found that millions of pounds in donations are paying for expensive fundraising campaigns run by American direct mailing firms. David Holdsworth is chief operating officer of the charity commission and Karl Wilding is policy director at National Council for Voluntary Organisations.
0740
In 1811 the inventor Sarah Guppy took out a patent for 'erecting bridges without arches or sterlings', using what she called 'rows of piles and suitable framing'. Her ideas influenced both Thomas Telford in his Menai Bridge and Brunel for his Clifton suspension bridge. Only now has she been formally recognised in the new edition of the Oxford Dictionary of National Biography. Deborah Jaffee is author Ingenious Women.
0750
Zoo officials shot dead a gorilla called Harambe on Saturday after a four-year-old boy fell into its enclosure in the US city of Cincinnati. The zoo director claimed a tranquilliser would not have had a quick enough effect and that it was a potentially a "life-threatening situation". Kirsten Pullen is CEO of the British and Irish Association of Zoos and Aquariums and she has PHD in gorilla behaviour.
0810
More on prisoners serving indeterminate sentences under IPP: Kenneth Clarke is former justice secretary.
0820
A new series of Top Gear was aired last night on BBC Two with Chris Evans and Matt Le Blanc presenting. What was the reaction? TV critic, Kevin O'Sullivan and former racing driver Amanda Stretton join us on the programme.
0830
More on the Albanian migrants who were rescued off the Kent coast: Catriona Renton reports from Dymchurch.
0840
A new book takes a look at peers' expenses for the parliamentary year and finds that despite the expenses scandal of 2009 peers - some of whom have never spoken in the House of Lords and have never voted - continue to claim considerable sums of money. Martin WIlliams is author of Parliament PLC and Baroness Angela Smith is Labour's leader in the House of Lords.  
0850
Is it still possible for President Obama to leave the White House having fulfilled one of his first pledges in office - to close the detention camp at Guantanamo Bay? Numbers have been significantly reduced but with the rise of so-called Islamic State some believe the United States should keep it open. The BBC's North America correspondent Aleem Maqbool reports.
0855
The documentary maker Nick Broomfield's latest Programme "Going Going Gone" which was shown on BBC4 earlier this week, tells the story of campaigners in Cardiff and Liverpool fighting to preserve our British architectural heritage. He joins us on the programme from Atlanta.
All timings subject to change