Main content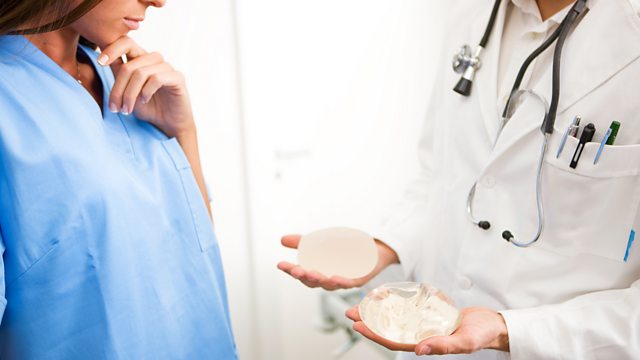 Breast implants; Second-hand clothes; Wine in a bag
A new review into PIP breast implants. The booming trade in Hungary for second-hand clothes from Britain. And the fine wines, now being sold in a bag with a tap.
A new review has been announced into the safety of a type of breast implant which was at the centre of a fraud case where the makers used the wrong kind of silicone. PIP breast implants were withdrawn from the UK in 2010. After a campaign by some of the women affected, the European Commission has agreed to take a fresh look at the scientific evidence for their safety. More than 40,000 women in the UK had these substandard implants.
In many towns and cities in Hungary, you will see the Union Flag prominently displayed on shop signs. These are clothes shops, selling cheap second-hand clothes from Britain. There is a booming market for clothes which were donated to charity and exported to Hungary to be re-sold there. Some are then re-exported for sale in African countries and Pakistan. We report from Budapest on the popularity of British cast-offs.
First they were cheap, then they became naff and now, they're back. Wine in a bag. For years anything that came out of a bag in a box was regarded as cheap plonk, but now the so-called "bagnum" has re-styled itself and fine wines are being sold in smart slender plastic bags with taps. It seems to be winning over drinkers too, with M&S and Tesco now offering some of their wine in bags.
Producer: Jonathan Hallewell
Presenter: Winifred Robinson.
Chapters
PIP Implants

Campaigners win a new review of the safety of breast implants

Duration: 04:44

Second Hand Clothes

The booming market in Hungary for second hand clothes from Britain.

Duration: 07:19

Tax Rebate Copycats

A warning over sites that offer help in getting a tax rebate.

Duration: 06:00

Wine Bags

Could wine sold in a bag be ready for a comeback?

Duration: 05:57

Austin Reed

We look into what went wrong for this iconic British fashion retailer.

Duration: 04:08

Premium Bonds

Are Premium Bonds still a good investment?

Duration: 04:13

GPs Migrate North

The GPs who say the cost of insurance is driving them over the border into Scotland.

Duration: 05:22