Main content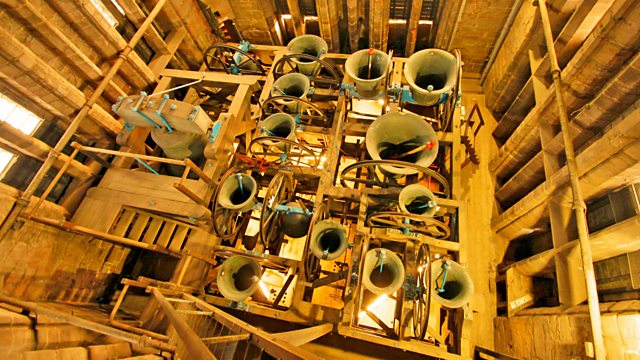 Review of Sharia courts, Scientology buildings vacant, Bells for BBC Music Day
A review of Sharia law in the UK is launched; the valuable listed buildings owned by the Church of Scientology that are unused; church bells will peal for BBC Music Day.
With less than a month before the referendum on Britain's membership of the EU, there's a debate growing about the role religious leaders should take when they engage with political issues. Jasvir Singh from the London Faiths Forum and journalist Quentin Letts discuss the role of religion in politics.
Professor Mona Siddiqi tells Edward about the review of Sharia law in the UK that the Government has asked her to lead.
Why are some historic buildings owned by the Church of Scientology lying empty after they were purchased ten years ago? Geoff Bird has been to see one of the properties in Manchester.
In York, the Minster will be the setting for the 2016 Mystery Plays for only the second time in their 700 year history. Kevin Bocquet reports from the final rehearsals.
We report on a ground-breaking study which explores links between religion and HIV disease progression. Gail Ironson is Professor of Psychology at the University of Miami.
Tom Smith, lecturer in International Relations at Portsmouth University, explains why the Philippine's President elect has called the Catholic Church the 'most hypocritical institution' in the country and says he doesn't need the religion to show his deep Christian faith.
Christian and Muslim forces are engaged in a bloody conflict in Africa whilst radical Buddhists in Myanmar attack the Islamic minority. Rabbi David Saperstein is the U.S. Ambassador-at-Large for International Religious Freedom. He discusses with Edward the future of religious freedom.
Bells from over 100 church towers will ring out simultaneously for BBC Music Day. The organiser Mike Orme and the youngest participant, 11yr old Lewis, tell us about their bell ringing passion.
Producers;
David Cook
Helen Lee
Series Producer:
Amanda Hancox.
Chapters
British Sharia Courts

Professor Mona Siddiqi tells Edward about the review of Sharia law in the UK.

Duration: 05:23

HIV & Spirituality

A ground-breaking study which explores links between religion and HIV disease progression.

Duration: 05:17

York Mystery Plays 2016

Kevin Bocquet reports from the final rehearsals in York Minster.

Duration: 07:01

Ambassador David Saperstein

U.S. Ambassador-at-Large for International Religious Freedom discusses his role.

Duration: 05:42

Scientology

Why does the Church of Scientology own four empty listed buildings in the UK?

Duration: 07:57

Churches And The Referendum

Should religious leaders become involved in the EU debate?

Duration: 07:12

An Ap'pealing' Evening

Bells from over 100 church towers will ring out simultaneously for BBC Music Day.

Duration: 03:23