Main content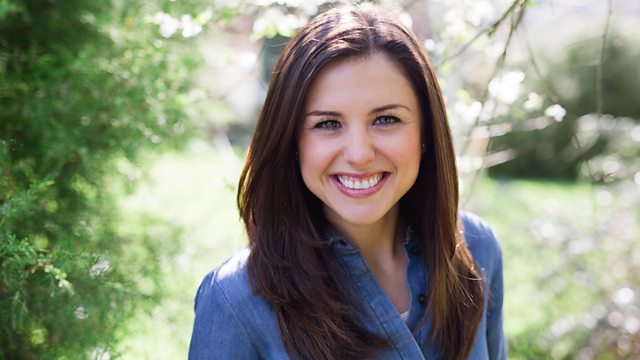 The team finds out how to give toads a helping hand to reach their natural habitat and reports on how Cumbrian communities are working to recover from the winter floods, just in time for the tourist season.
Fledgling smallholder Paul Martin provides tips on how to build a watery wildlife haven.
Music Played
Timings (where shown) are from the start of the programme in hours and minutes
00:16

Ella Henderson

Yours

00:21

Florence + the Machine

Cosmic Love

00:38

Jake Bugg

Lightning Bolt
Skunk Cabbage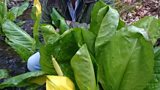 Britain is under attack from a silent invader that is taking over our ponds and streams - the American skunk cabbage. This popular ornamental plant for garden ponds was first introduced to the UK in 1901. In recent years, sightings of the American skunk cabbage in the wild have increased by 84%. If left to its own devices, the skunk cabbage has been known to wipe out all native flora around it.  Jules Hudson reports on the battle that's underway to remove this invader before summer and the flower goes to seed.  He joins ecologist, Chrissy Mason and a team of volunteers removing it from Dartmoor, to find out why the attractive but smelly plant needs to be kept under control.
If you spot skunk cabbage in the countryside report it using the Environment Agency App
Toad Patrol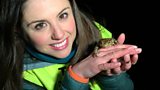 Blashford lakes, on the edge of the New Forest in Hampshire, are expecting a spring arrival and lots of them.  A nocturnal creature that hibernates through the winter months but come spring its phenomenal homing instinct kicks in.  For the common toad, that means walking long distances back to where it spawned ready to breed. Keeley Donovan joins Teresa Baker out on toad patrol to find out why she has to help the toads need our help in spring.
Rebuilding Cumbria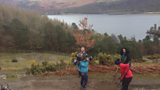 In December, storm Desmond caused an estimated £500 million pounds worth of damage across Cumbria. The deluge of rain - 34 centimetres, or 14 inches, fell in 24 hours flooding huge swathes of town and countryside.  Margherita Taylor reports on a community that won't be beaten. She meets the people rebuilding and restoring pathways ready for the summer season.  She also visits a sheep farm that was cut off by the floods as the lambing season gets underway.
Breakwater Terns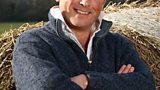 The stormy weather that batters the UK, doesn't just affect our communities, it also affects our birdlife - particularly ground nesting birds like the Little Tern. Over Easter, Storm Katie battered the Hampshire coastline, damaging sea defences and eroding the shingle beaches that the Little Terns use to nest. Jules meets Reserve Manager Bob Chapman as he races against the clock, to restore shingle-nesting habitat along the local harbour breakwater, before the seabirds return to the UK this spring.
Elver Fishing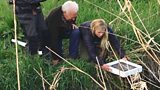 Ellie witnesses the ancient spring sight of 'Elvermen' hunched along the banks of the River Severn in order to net one of the oldest creatures on earth – elvers. Although she's lived in Gloucestershire her whole life, Ellie has never witnessed the spectacle. It only takes place when conditions are perfect – under a cloak of darkness when spring tides are at their highest. Whilst there, Ellie finds out how elvermen, the fisheries and eel conservation groups are all working together to keep the tradition of elvering, and this critically endangered species, alive.
Paul Martin's Smallholding – The Pond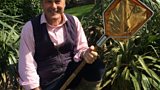 This spring, Paul is injecting new life into his Wiltshire smallholding.  Today, he takes the plunge, turning his attention to renovating his overgrown Victorian pond. To help give his pond a make over and to provide some top tips on maintaining a healthy habitat for wildlife, Paul calls in Jeremy Biggs from the Fresh Water Habitats Trust. With Jeremy's help, Paul and his son Dylan, discover what lurks beneath the duckweed in the hundred-year old pond and add some new plant-life to rejuvenate the habitat. Will their hard work payoff, and provide a healthy environment to encourage new life?
Take an environmental DNA test and find out who lives in your garden pond
Spring Mayfly Hatch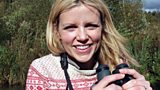 During April a mass spectacle occurs on the River Tweed – the hatching of March brown mayflies. Only when the light is perfect will the mayflies appear from the depths of the river to take flight. This event occurs around lunchtime and is very easy to miss as it only lasts for a short time. Kenny Galt, a keen angler, explains more about this amazing sight and how the mayfly hatching helps anglers to catch trout.
Credits
| Role | Contributor |
| --- | --- |
| Presenter | John Craven |
| Presenter | Keeley Donovan |
| Presenter | Jules Hudson |
| Presenter | Paul Martin |
| Presenter | Margherita Taylor |
| Series Producer | Andrea Buffery |
| Editor | William Lyons |