Main content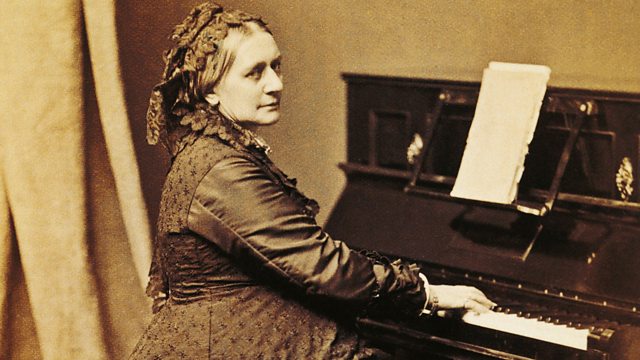 Donald Macleod explores the lives and music of Clara Schumann and her circle. Today, Clara and Johannes Brahms, whose friendship – and bickering – lasted over 40 years.
This week, Donald Macleod explores the lives and music of Clara Schumann and the extraordinary circle of composers and musicians she moved in. Today, Clara and Johannes Brahms, whose friendship – and bickering – lasted over 40 years.
Clara Schumann was one of the most important and influential musicians of the 19th century. Hot-housed by her pushy and ambitious piano-teacher father, Friedrich Wieck, she made her concert debut at the Leipzig Gewandhaus at the age of nine and published her first opus – a set of four mazurkas – only two years later. Friedrich's Grand Plan for Clara would ultimately be knocked off course, however, by the arrival on the scene in autumn 1830 of Robert Schumann, who became the Wiecks' live-in student. In time, a relationship blossomed, leading eventually, a decade later – when Clara had reached the age of majority – to marriage, whereupon her career very much took a back seat to looking after Robert and the eight children they would produce together. After Robert's death in 1856, Clara resumed her concert career in earnest – it was, after all, her principal source of income – but more or less stopped composing for good. Her oeuvre, some 50 works, mainly piano miniatures and songs, poses one of the most tantalizing what-ifs in music history – what if her family commitments and the social mores of her day had not constrained Clara Schumann's development as a composer? Her Piano Trio in G minor, one of less than a handful of large-scale works she was able to complete, suggests one possible answer: that she might perhaps have become one of the leading composers of the second half of the 19th century.
When Clara Schumann recalled in her diary the day she met Johannes Brahms, she described him as "God-sent". She was referring to his musical talent, but his arrival on her Düsseldorf doorstep in October 1853 turned out to be providential for entirely different reasons. Robert Schumann had been acting erratically for some time, but Clara couldn't have imagined how quickly his situation would deteriorate. Just four months later he suffered a complete mental breakdown and was committed at his own request to the insane asylum at Endenich where he would die almost two and a half years later. Brahms, a young man of just 20, stepped into the breach as a sort of surrogate head of the household. He quickly became indispensable to Clara, offering much-needed practical as well as emotional support – helping to look after her seven surviving children, doing the household accounts and liaising with Robert's doctors about the progress of his illness. After Robert's funeral, Brahms took Clara and two of the children away for a break in Lucerne. No-one knows what transpired there – perhaps Brahms proposed marriage and Clara declined – but it was a major turning-point in their relationship. Brahms's residency at the Schumann home was over. He returned home to Hamburg, and for the next 40 years he and Clara remained the closest of platonic friends, periodically falling out but always making up. Brahms never married. Thirteen years Clara's junior, he survived her by less than 12 months.
Clara Schumann
Sechs Lieder aus Jucunde, Op 23 (No 5, Das ist ein Tag, der klingen mag (This is a day of singing))
Gabriele Fontana, soprano
Konstanze Eickhorst, piano
Brahms
Scherzo in E flat minor, Op 4
Julius Katchen, piano
DECCA 455 247-2 CD 2 tk 6
Clara Schumann
3 Romances, Op 22
Lisa Batiashvili, violin
Alice Sara Ott, piano
Clara Schumann
3 Romances, Op 21
Cristina Ortiz, piano
Brahms
Piano Concerto No 1 in D minor, Op 15 (2nd mvt, Adagio)
Radu Lupu, piano
London Philharmonic Orchestra
Edo de Waart, conductor
Clara Schumann
Romance in B minor, Op posth
Konstanze Eickhorst, piano
Producer: Chris Barstow
More episodes
Next
You are at the last episode