Main content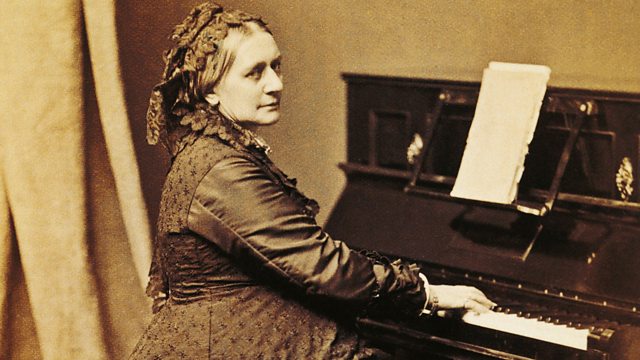 Donald Macleod explores the lives and music of Clara Schumann and her circle. Today, Clara and the dazzlingly talented Felix and Fanny Mendelssohn.
This week, Donald Macleod explores the lives and music of Clara Schumann and the extraordinary circle of composers and musicians she moved in. Today, Clara and the dazzlingly talented Mendelssohns – Felix and Fanny – whose untimely deaths within a few months of each other shook her deeply.
Clara Schumann was one of the most important and influential musicians of the 19th century. Hot-housed by her pushy and ambitious piano-teacher father, Friedrich Wieck, she made her concert debut at the Leipzig Gewandhaus at the age of nine and published her first opus – a set of four mazurkas – only two years later. Friedrich's Grand Plan for Clara would ultimately be knocked off course, however, by the arrival on the scene in autumn 1830 of Robert Schumann, who became the Wiecks' live-in student. In time, a relationship blossomed, leading eventually, a decade later – when Clara had reached the age of majority – to marriage, whereupon her career very much took a back seat to looking after Robert and the eight children they would produce together. After Robert's death in 1856, Clara resumed her concert career in earnest – it was, after all, her principal source of income – but more or less stopped composing for good. Her oeuvre, some 50 works, mainly piano miniatures and songs, poses one of the most tantalizing what-ifs in music history – what if her family commitments and the social mores of her day had not constrained Clara Schumann's development as a composer? Her Piano Trio in G minor, one of less than a handful of large-scale works she was able to complete, suggests one possible answer: that she might perhaps have become one of the leading composers of the second half of the 19th century.
Clara first encountered Felix Mendelssohn in 1835, on his arrival in Leipzig to take up the reins of the Gewandhaus Orchestra. Ten years her senior, he held her in high esteem as a musician, and they performed together frequently, both privately and in public – including the première of Clara's own Piano Concerto. Like Felix, his sister Fanny Hensel was a gifted pianist who had composed profusely from an early age. But she came from a rich Jewish banking family, and for a woman of her social standing a career as a professional musician – or indeed a career of any kind whatsoever – was simply out of the question. Despite her amateur status, though, Clara generously described Fanny as "undoubtedly the most distinguished woman musician of her time".
Fanny Hensel
Piano Trio in D, Op 11 (3rd mvt, Lied – Allegretto)
The Dartington Piano Trio (Oliver Butterworth, violin; Michael Evans, cello; Frank Wibaut, piano)
Mendelssohn
Capriccio in F sharp minor, Op 5
Howard Shelley, piano
Fanny Hensel
Verlust (Loss); Fichtenbaum und Palme (Fir Tree and Palm); Italien (Italy)
Christina Högman, soprano
Roland Pöntinen, piano
Mendelssohn
Octet in E flat, Op 20 (4th mvt, Presto)
Academy Chamber Ensemble
Clara Schumann
Piano Trio in G minor, Op 17
Boulanger Trio
Producer: Chris Barstow