Main content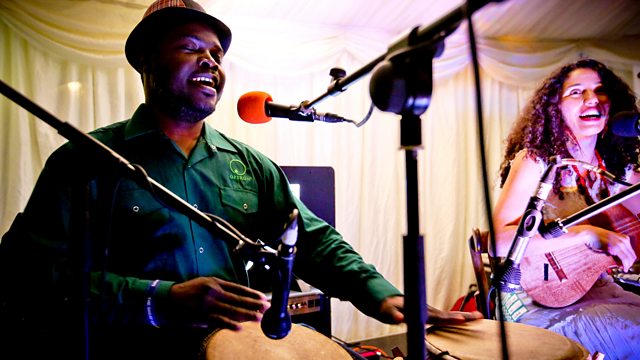 Nick Luscombe with Family Atlantica
Nick Luscombe presents highlights from a set performed by Family Atlantica on the Late Junction stage at the 2016 Great Escape festival in Brighton.
Nick has more highlights from the Late Junction stage at Brighton's Great Escape. We feature international trio Family Atlantica in concert and in conversation at the festival. With members from West Africa, Venezuela and East London they combine afro-jazz, funk, and Latin rhythms on everything from flute to conch shells and thumb piano.
We also have brand new electronica from UK producer Space Dimension Controller, leftfield art rock from Arto Lindsay and contemporary Hawaiian pop from Chucky Boy Chock.
Last on
Music Played
Chucky Boy Chock

&

Mike Kaawa

Papa'A Tita

Aloha Got Soul: Soul AOR & Disco In Hawai'i 1979-1985.
Strut.
2.

Family Atlantica Trio

Neti Neti (live at The Great Escape 2016)

Barry Andrewsin Disko

Muutto

Daniel Johnston

True Love Will Find You In The End

1990.
Instinct Records.
5.

Kit Downes

&

Tim Challenger

Sa

Golden Teacher

Rashomon

Bells From The Deep End.
Optimo Music.
1.

Yanis Varoufakis

The Call

Johann Sebastian Bach

II. Corrente - Solo Violin Partita No.2 In D Minor, BWV 1004 For Vibraphone

Performer: Makoto Nakura.

Space Dimension Controller

The Bad People

Bruce Haack

Spiders

The Electronic Record For Children.
Dimension 5.
5.

Makoto Nomura

Trace of Root Music

Rhys Chatham

Pythagorean Dream (excerpt one)

Arto Lindsay

Blue Eye Shadow
Broadcast