Main content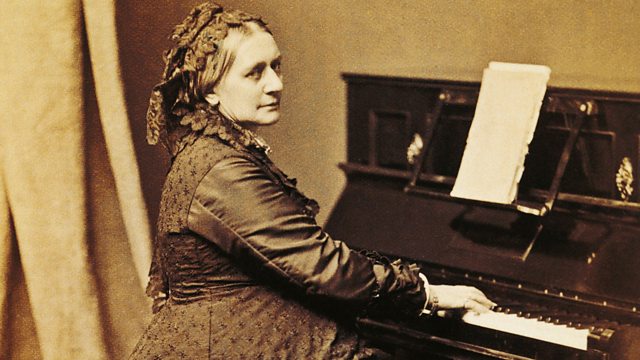 Donald Macleod explores the lives and music of Clara Schumann and her circle. Today, Clara and Chopin – his music was central to her concert repertoire over six decades.
This week, Donald Macleod explores the lives and music of Clara Schumann and the extraordinary circle of composers and musicians she moved in. Today, the young Clara meets Fryderyk Chopin.
Clara Schumann was one of the most important and influential musicians of the 19th century. Hot-housed by her pushy and ambitious piano-teacher father, Friedrich Wieck, she made her concert debut at the Leipzig Gewandhaus at the age of nine and published her first opus – a set of four mazurkas – only two years later. Friedrich's Grand Plan for Clara would ultimately be knocked off course, however, by the arrival on the scene in autumn 1830 of Robert Schumann, who became the Wiecks' live-in student. In time, a relationship blossomed, leading eventually, a decade later – when Clara had reached the age of majority – to marriage, whereupon her career very much took a back seat to looking after Robert and the eight children they would produce together. After Robert's death in 1856, Clara resumed her concert career in earnest – it was, after all, her principal source of income – but more or less stopped composing for good. Her oeuvre, some 50 works, mainly piano miniatures and songs, poses one of the most tantalizing what-ifs in music history – what if her family commitments and the social mores of her day had not constrained Clara Schumann's development as a composer? Her Piano Trio in G minor, one of less than a handful of large-scale works she was able to complete, suggests one possible answer: that she might perhaps have become one of the leading composers of the second half of the 19th century.
Clara first encountered Fryderyk Chopin in the early months of 1832. She was a seasoned virtuoso of 13, on a promotional visit to Paris; he, at 21, had put down roots in the French capital just a few months earlier – an accidental refugee from the failed Polish Uprising. Clara was in the audience for Chopin's astonishing first public Parisian recital, at the Salle Pleyel. She had already learnt one of his works, and his music would be a mainstay of her concert repertoire for the next six decades. The respect was clearly mutual – when Chopin visited Clara in Leipzig a few years later, he was impressed enough to take several of her pieces away with him.
Clara Schumann
4 Polonaises, Op 1 (No 2 in C)
Suzanne Grutzmann, piano
Chopin
Variations on Mozart's Là ci darem la mano, Op 2
Garrick Ohlsson, piano
Warsaw Philharmonic Orchestra
Kazimierz Kord, conductor
Clara Schumann
Soirées musicales, Op 6 (No 4, Ballade in D minor); 4 Pièces caractéristiques, Op 5 (No 4, Scène fantastique (Le Ballet des revenants))
Suzanne Grutzmann, piano
Chopin
Cello Sonata in G minor, Op 65 (3rd mvt, Largo)
Mischa Maisky, cello
Martha Argerich, piano
Clara Schumann
Piano Concerto in A minor, Op 7 (3rd mvt, Finale. Allegro non troppo)
Lucy Parham, piano
BBC Concert Orchestra
Barry Wordsworth, conductor
Producer: Chris Barstow
More episodes
Previous
You are at the first episode