Main content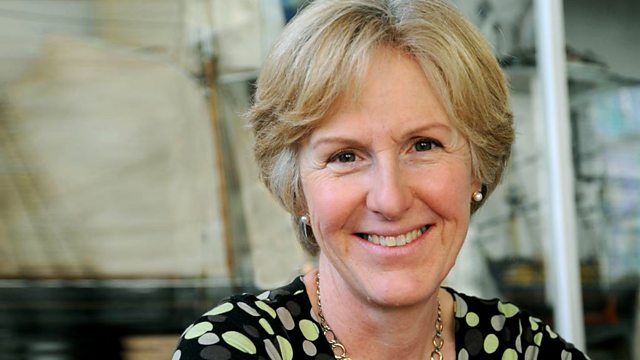 Proms 2015: Schubert and Bruckner from the BBC Philharmonic
Catriona Young presents the BBC Philharmonic and Juanjo Mena performing music by Schubert and Bruckner at the 2015 Proms.
Catriona Young presents the BBC Philharmonic and Juanjo Mena from the 2015 BBC Proms performing music by Schubert and Bruckner.
12:31 AM
Schubert, Franz (1797-1828)
Symphony No.4 in C minor, D.417 'Tragic'
BBC Philharmonic, Juanjo Mena (conductor)
12:58 AM
Bruckner, Anton (1824-1896)
Mass No.3 in F minor for soloists, chorus, orchestra and organ
Luba Orgonášová (soprano), Jennifer Johnston (mezzo-soprano), Robert Dean Smith (tenor), Derek Welton (bass-baritone), Orfeón Pamplonés, BBC Philharmonic, Juanjo Mena (conductor)
2:01 AM
Sibelius, Jean [1865-1957]
Symphony No.7 (Op.105) in C major
BBC Philharmonic, Juanjo Mena (conductor)
2:22 AM
Liszt, Franz (1811-1886)
Sonetto 123 di Petrarca (S.158 No.3): Io vidi in terra angelici costumi
Janina Fialkowska (piano)
2:31 AM
Beethoven, Ludwig van [1770-1827]
String Trio (Op.9 No.1) in G major
Trio AnPaPié
3:00 AM
Grieg, Edvard (1843-1907)
Haugtussa - song cycle
Solveig Kringelborn (Soprano), Malcolm Martineau (Piano)
3:27 AM
Borodin, Alexander [1833-1887]
Polovtsian dances from 'Prince Igor'
Sydney Symphony Orchestra; Stuart Challender (conductor)
3:38 AM
Chopin, Fryderyk (1810-1849)
Three Mazurkas (Op.59)
Kevin Kenner (piano)
3:49 AM
Pandolfi Mealli, Giovanni Antonio [fl.1660-1669]
Violin Sonata in E minor Op.4 No.1 (La Bernabea)
Daniel Sepec (violin), Hille Perl (viola da gamba), Lee Santana (theorbo), Michael Behringer (harpsichord)
3:55 AM
Bach, Johann Sebastian (1685-1750)
6 Chorales from the Schemelli Collection: Gott, wie gross ist deine Güte (BWV.462); Dich bet' ich an, mein höchster Gott (BWV.449); Dir, dir, Jehova, will ich singen (BWV.452); O liebe Seele, zieh' die Sinnen (BWV.494); Vergiss mein nicht, mein allerliester Gott (BWV.505); Ich halte treulich still und liebe meinen Gott (BWV.466)
Bernarda Fink (mezzo soprano) , Marco Fink (bass baritone) , Domen Marincic (gamba), Dalibor Miklavcic (organ)
4:08 AM
Vivaldi, Antonio (1678-1741)
Concerto da camera in C major (RV.88)
Camerata Koln
4:15 AM
Chaminade, Cecile [1857-1944]
Concertino Op.107
Maria Filippova (flute), Ekaterina Mirzeava (piano)
4:24 AM
Dvorák, Antonín (1841-1904)
Slavonic Dance No.10 in E minor (Op.72 No.2) (Starodávny)
BBC Concert Orchestra, Barry Wordsworth (conductor)
4:31 AM
Mozart, Wolfgang Amadeus (1756-1791)
Kirchen-Sonate in B flat (K. 212) for 2 violins, double bass and organ
Royal Academy of Music Beckett Ensemble, Patrick Russill (Conductor)
4:36 AM
Field, John (1782-1837)
Andante inédit in E flat major for piano
Marc-André Hamelin (Piano)
4:44 AM
Haydn, Joseph (1732-1809)
Trio in E flat major H.15.30 for keyboard and strings
Kungsbacka Piano Trio
5:02 AM
Bach, Georg Christoph (1642-1703)
Siehe, wie fein und lieblich ist es - vocal concerto for 2 tenors, bass and instruments
Paul Elliott and Hein Meens (tenors), Stephen Varcoe (bass), Musica Antiqua Koln, Reinhard Goebel (director)
5:09 AM
Boccherini, Luigi [1743-1805]
La musica notturna delle strade di Madrid Quintet No 6, Op 30 (G.324)
Polish Radio Symphony Orchestra, Wojciech Rajski (conductor)
5:22 AM
Guerau, Francisco [1649-1717/1722]
Mariona from "Poema Harmonico"
Xavier Diaz-Latorre (guitar from Italy, c.1700)
5:28 AM
Debussy, Claude [1862-1918]
Iberia - from Images for Orchestra
BBC Philharmonic, Juanjo Mena (conductor)
5:49 AM
Rachmaninov, Sergey [1873-1943]
Suite for 2 pianos in G minor (Op.5) (Fantasie-Tableaux)
Dina Yoffe & Daniel Vaiman (pianos)
6:15 AM
Locatelli, Pietro Antonio (1695-1764)
Violin Concerto in E flat (Op.7 No.6), "Il Pianto d'Arianna"
Europa Galante, Fabio Biondi (violin/director).