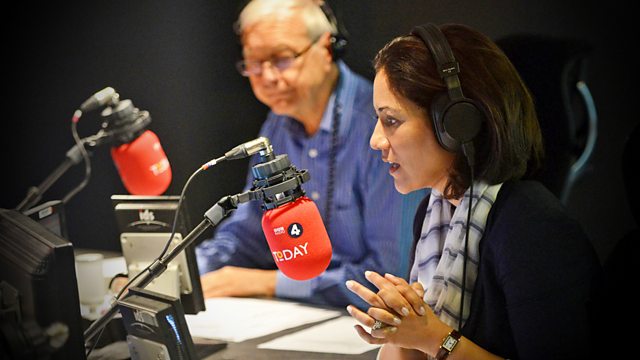 26/05/2016
Morning news and current affairs. Includes Sports Desk, Yesterday in Parliament, Weather and Thought for the Day.
Today's running order
0650
A group of transport experts have criticised the design of HS2 saying it will push up carbon emissions as it will require more energy than normal continental high-speed rail but only save 3.5 minutes from London to Birmingham. Tony May is emeritus professor of Transport Engineering at the University of Leeds.
0710
The Italian navy rescued 432 people on Wednesday after an overcrowded fishing boat capsized off the coast of Libya. The European Council President Donald Tusk called on the G7 to show solidarity over the refugee crisis and commit to increasing global assistance.  Sandro Gozi is senior analyst at EU Council on Foreign relations and Libya expert.
0715
An inquiry by the All Party Parliamentary Group for Runaway and Missing Children and Adults is calling for a system of 'categorising' missing children into two tiers to be scrapped. Ann Coffey who chaired the enquiry and Chief Constable Mike Veale from the National Police Chiefs Council join us on the programme.
0720
A UK-wide ban on legal highs came into force at midnight. The new legislation is based on the Irish system, which outlawed all substances with a psychoactive effect on the brain, excluding alcohol, nicotine and caffeine, in 2010. Karen Vandersypen is a campaigner.
0730
More on the criticism of HS2: Giles Thomas is technical director of HS2.
0740
As part of our EU referendum coverage Nick Robinson looks at the debate that has been brewing in the nations curry houses, which are now closing at a rate of two or three a week because the Home Office no longer allows them to bring in low paid chefs to cook up the UK's favourite dish.
0750
The government has been warned that a plan to cut pension benefits to help save Tata Steel's UK operations could take ministers down a "dangerous path". John Park is assistant general secretary of the Community union and Steve Webb is pension's minister in the coalition government and now director of policy at Royal London.
0810
More on the migrant crisis after a fishing boat capsized off the coast of Libya: Peter Sutherland is UN special representative for International Migration.   
0820
Not only has Hillary Clinton got negative ratings almost as high as Donald Trump but she is also still struggling to see off the challenge from Bernie Sanders. He is fighting to the end and may yet produce what he calls a "messy" Democratic convention in July. James Naughtie reports from California.
0830
The former home secretary Lord Blunkett is today making the case for Britain to remain in the EU arguing that it can help tackle migration. He still thinks it was right for Labour to offer an open door to Eastern European migrants in 2004. He joins us on the programme.
0840
A Chinese company are building a submarine that will take humans to the deepest place in the ocean, the Mariana Trench, which lies 11km down. But as tensions grow in the South China Sea, there are concerns about how the marine technology will be used. The BBC's global science correspondent Rebecca Morelle reports.
0850
Small circular walls found deep inside a French cave were probably built by Neanderthals, proving that the ancient cousins of humans were capable of more complex behaviour than previously thought. Chris Stringer is researcher in human origins at the Natural History Museum.
0855
A new Winnie-the-Pooh story which sees the bear meet the Queen for the first time has been released to celebrate both of their 90th birthdays. Jane Riordan is author of 'Winnie-the-Pooh and the Royal Birthday'.
So you think you know the Today programme?