Main content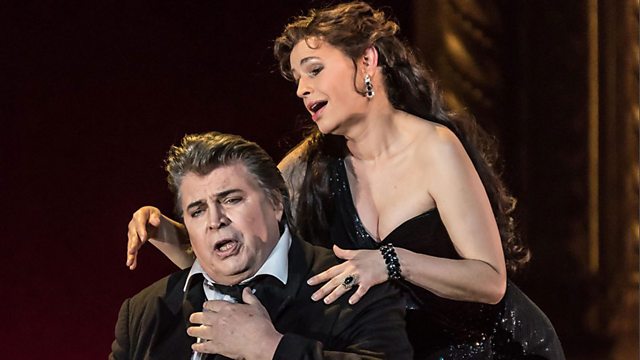 Wagner's Tannhauser
From the Royal Opera House, Covent Garden, a performance of Wagner's early masterpiece Tannahauser. With Peter Seiffert, Emma Bell, Sophie Koch and Christian Gerhaher.
As part of the BBC opera season, Radio 3 is broadcasting all seven of the operas featured in the V&A's exhibition, in partnership with the Royal Opera House, called Opera: Passion, Power and Politics, which explores the stories behind seven operatic premieres in seven cities. Tannhauser is one of the featured operas, with Wagner's modernism shocking the audiences of Paris where Grand Opera was in full swing.
Hartmut Haenchen conducts Tannhäuser, Wagner's early masterpiece, in Tim Albery's acclaimed production, recorded at the Royal Opera House, Covent Garden.
Presented by Donald Macleod, in conversation with Barbara Eichner.
One of today's leading Wagnerian tenors, Peter Seiffert takes on the title role of the young troubadour knight who is torn between spiritual love and carnal desire. Wagner's opulent score melds together the worlds of the sacred and profane.
Tannhauser, having been charmed by love goddess Venus, comes to his senses and returns to his mortal love, the chaste heroine Elisabeth. However, he sings of passionate rather than courtly love, which shocks her and her community. He promises to seek atonement and redemption, but the illicit attraction of Venus continues to beckon.
Wagner: Tannhäuser
Tannhäuser ..... Peter Seiffert (tenor)
Wolfram von Eschenbach ..... Christian Gerhaher (baritone)
Hermann, Landgrave of Thuringia ..... Stephen Milling (bass)
Elisabeth, the Landgrave's niece ..... Emma Bell (soprano)
Venus ..... Sophie Koch (mezzo-soprano)
Walther von der Vogelweide ..... Ed Lyon (tenor)
Heinrich der Schreiber ..... Samuel Sakker (tenor)
Biterolf ..... Michael Kraus (bass)
Reinmar von Zweter ..... Jeremy White (bass)
Shepherd boy ..... Duncan Tarboton (treble)
Elisabeth's attendents ..... Kiera Lyness, Deborah Peake-Jones (sopranos); Louise Armit, Kate McCarney (mezzo-sopranos)
Royal Opera Chorus
Royal Opera House Orchestra
Hartmut Haenchen (conductor).
Synopsis
Heinrich Tannhäuser, angry and frustrated that his art as a singer is not understood or appreciated, has left his home, the conservative world of the Wartburg. Since then, his singing has won him the love of the goddess Venus.
Act I
Scene 1: The Venusberg
Venus and Tannhäuser celebrate their sensual life in an increasingly frenzied dance. Tannhäuser, however, has had enough of the pleasures of the Venusberg and longs to return to his home. Venus urges him to forget his old life and to sing for her. Tannhäuser begins to sing in praise of Venus' beauty (Dir töne Lob), but the song soon turns into a plea for him to be allowed to return to his earthly life.
Venus attempts to seduce Tannhäuser into remaining with her, but Tannhäuser is adamant that he must leave. Eventually, he escapes, but not before Venus has angrily prophesied that he will find no peace in the world of men and will return to her in desperation.
Scene 2: A valley near the Wartburg
Tannhäuser finds himself back near his former home. A young boy sings a song to the spring (Frau Holda kam aus dem Berg hervor) and a group of pilgrims pass by, reminding Tannhäuser of his guilt at having been with Venus. He can see only a life of pain and suffering ahead of him.
The Landgrave, along with Tannhäuser's friends and fellow-singers Wolfram, Walther, Heinrich der Schreiber, Reinmar and Biterolf, arrive, greet Tannhäuser and urge him to return to the Wartburg. Tannhäuser is reluctant until Wolfram mentions the name of Elisabeth, the Landgrave's niece, and tells Tannhäuser how Elisabeth has grieved for him, and become a virtual recluse since he disappeared. Hoping that Elisabeth's love may redeem him, Tannhäuser agrees to return to the Wartburg.
Act II
The Wartburg
Elisabeth waits excitedly for Tannhäuser's return (Dich, teure Halle). Tannhäuser is led in by Wolfram, and begs Elisabeth's forgiveness for his absence. She tells him of how his music moved her in the past, and of her grief when he left the Wartburg. The pair rejoice that they are together again. Wolfram, also in love with Elisabeth, realizes that he has no hope of winning her. Tannhäuser and Wolfram leave as the Landgrave enters. The Landgrave tries to discover Elisabeth's true feelings for Tannhäuser but she begs him not to question her.
The Landgrave tells her that the singing contest he has announced will reveal the truth. Once his people are assembled, the Landgrave announces the subject of the song contest: what is the essence of love? The singer who best answers the question will be rewarded whatever prize he wishes by Elisabeth. Wolfram sings of love as a fountain of pure water; he would never disturb the object of his affection, but only worship her from afar. Tannhäuser contradicts Wolfram, saying that true love is burning desire, rather than spiritual devotion.
Walther tells Tannhäuser that it is he who does not know love, and states that love is only virtuous if it is chaste. Tannhäuser responds with scorn, passionately proclaiming the importance of physical desire. This enrages Biterolf, who attacks Tannhäuser for insulting the virtue of woman. The discussion grows increasingly heated until Tannhäuser breaks into a hymn of praise to Venus, revealing that he has been in the Venusberg. The crowd is horrified. The Landgrave and his men are about to attack Tannhäuser when Elisabeth steps forward to defend him. She begs that Tannhäuser be given the chance to repent, even though he has broken her heart. Tannhäuser is devastated at the pain he has caused Elisabeth and begs for mercy. The Landgrave announces that Tannhäuser must travel with a group of pilgrims to Rome and seek the forgiveness of the Pope. As Tannhäuser sets off with the pilgrims, Elisabeth prays for his salvation.
Act III
The valley near the Wartburg
Elisabeth, watched by Wolfram, is waiting for the pilgrims to return from Rome, but when they arrive Tannhäuser is not among them. In despair, Elisabeth prays to the Virgin to let her die and through her death save Tannhäuser (Allmächt'ge Jungfrau).
Alone, Wolfram calls on the evening star to guide Elisabeth out of the valley of death on her way to heaven (O du, mein holder Abendstern). Tannhäuser enters, exhausted and bitter. He tells Wolfram that the Pope was horrified at his sins and refused him pardon, telling him that he would only be forgiven if the Pope's staff sprouted green leaves. In despair, Tannhäuser has decided to return to the Venusberg, and calls upon Venus to take him. Wolfram urges him not to give up hope of salvation. Venus appears, calling seductively to Tannhäuser to return to her. Wolfram, desperate to stop Tannhäuser, calls out Elisabeth's name. At that moment the men of the Wartburg bring news of Elisabeth's death, and Venus vanishes. Wolfram explains to Tannhäuser that Elisabeth has sacrificed herself in the hope of saving his soul.
Tannhäuser at last understands the depth of Elisabeth's love, and his final words are 'Elisabeth, pray for me'. And now a miracle is revealed. The Pope's staff has sprouted green leaves: Tannhäuser's soul is saved.
- With thanks to the Royal Opera House