Main content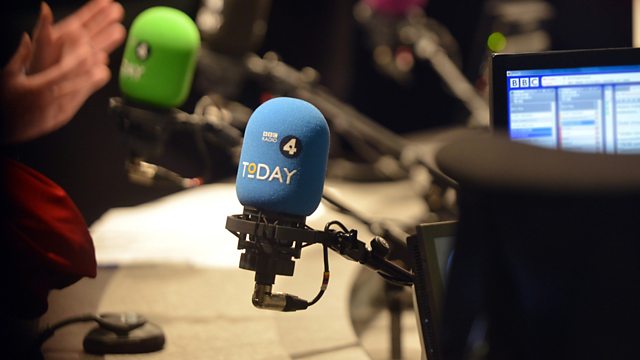 18/05/2016
Morning news and current affairs. Including Sports Desk, Weather and Thought for the Day.
Clips

Today's running order
0650
An American psychology professor says that true power is about modesty and empathy. Dacher Keltner is director of the Greater Good Science Center at the University of California, Berkeley and author of 'The Power Paradox'.
0655
As part of our European Union referendum coverage, the Today programme has been touring the UK to speak to people about their views on it. Nick Robinson reports from Norwich on the campus of East Anglia University.
0710
The Government says the centrepiece of its legislative programme in the Queen's speech is a bill aimed at changing the way prisons are managed in England and Wales. Under the proposed reforms, governors will be given more freedom over prison budgets and education. Richard Garside is director of Centre for Crime and Justice Studies and Eoin McLennan-Murray is former governor of Coldingley Prison and former president of the Prison Governors' Association.
0715
Detectives have been trying to find out why a severed human foot, with hardly any trace of DNA, was found in a park in Bath earlier this year. The BBC's Jon Kay has had exclusive access to their investigation.
0720
More on European Union coverage with Nick Robinson from the campus of East Anglia University.
0730
The Sun has been forced to publish a ruling from the Independent Press Standards Organisation (IPSO) including a headline on the front page reading "IPSO Rules Against Sun's Queen Headline". The newspaper regulator ruled in favour of Buckingham Palace following their complaint about the Sun's headline in March saying "Queen Backs Brexit".  Tony Gallagher is editor of The Sun.
0740
General Sir Richard Shirreff, former NATO Deputy Supreme Allied Commander in Europe has warned that we are on a course to a war with Russia unless warning signals are heeded, according to his book '2017: War with Russia'. He joins us on the programme.
0750
The chief executive of the Royal College of Midwives, Cathy Warwick, has backed a campaign by the British Pregnancy Advisory Service to fully decriminalise abortion, provoking a flare up in the controversy over abortion law. Ann Furedi is chief executive of the British Pregnancy Advisory Service and Dr John Wyatt is emeritus professor of neonatal paediatrics at University College London.
0810
More on the The Queen's speech about changing the way prisons are managed in England and Wales: Chris Grayling is former secretary of state for justice and leader of the Commons.
0820
Photographer Don McCullin's work over six decades includes many wars - from Cyprus in 1964 to Congo, Vietnam, Cambodia, Northern Ireland, Lebanon and others. He is just back from Palmyra in Syria and has been named this year's Master of Photography at Photo London. He joins us on the programme.
0830
More primaries have been taking place in the US presidential race including Democratic contests in Oregon and Kentucky. The BBC's special correspondent James Naughtie reports from Los Angeles.  
0840
Dame Barbara Windsor has said her final farewell to EastEnders with her character Peggy Mitchell seen apparently taking an overdose of pills. Anna Karen, a close friend of Windsor, who plays Peggy's sister 'Aunt Sal' in EastEnders, and appeared alongside her in many of the Carry On films, explains how important Peggy Mitchell was to the programme.
0850
Details of the UK's first commercial spaceport are expected to be announced in the Queen's speech today. Six possible host sites have been named in the Modern Transport Bill. Monica Grady is professor of Planetary and Space Sciences at the Open University.
0855
A plaque of the cookery writer Elizabeth David will be unveiled today. She will be the first to get one of the blue plaques in the 150 years since they have been handing them out. Jill Norman was Elizabeth David's editor and friend, and Simon Hopkinson is a chef and author.
All timings subject to change