Main content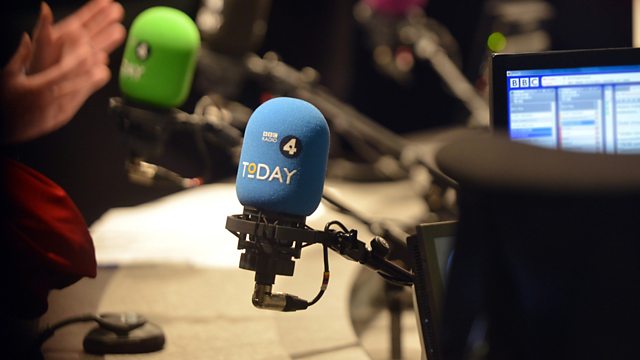 16/05/2016
Morning news and current affairs. Including Sports Desk, Weather and Thought for the Day.
Today's running order
The BBC is hosting World On The Move, a day of special live coverage examining how the movement of people is changing the world. 
A special BBC Radio 4 Today programme will be co-presented by Sarah Montague in Vietnam and Nick Robinson in the BBC Radio Theatre in London
Guests on Today include Yasmin Green, head of research & development at Jigsaw.(formerly known as Google Ideas); Tanya Steele, chief executive of Save The Children; David Goodhart, of the Policy Exchange think tank.
Here is a rundown of the events planned for the day:
0900
Start The Week will look at how the mass movement of people has changed societies with: The historian Sir Hew Strachan; Frank Dikötter, whose new book examines Cultural Revolution; the poet Patience Agbabi; and the Bangladeshi author Tahmima Anam.
1215
UNHCR special envoy and Hollywood actress Angelina Jolie Pitt will speak and take questions from a live audience, presented by Mishal Husain.
1300
The latest instalment of Manveen Rana's series about the Dhnie family, who fled Syria, will be broadcast on The World At One
1415
A short drama, written by the acclaimed playwright James Graham, will be broadcast live from the Radio Theatre.
1530
HARDtalk: Stephen Sackur interviews Lord Dubs, who came to Britain as one of the Kindertransport children.
1615
The Migrant Crisis: A Spy Master's Perspective will hear from Sir Richard Dearlove, former chief of the Secret Intelligence Service (MI6).
1700
Jim Muir will report on Iraqis now returning to their countries years after they fled to safety. 
2200
Ritula Shah will broadcast The World Tonight from San Francisco, looking at the impact of migration on Silicon Valley. <?xml:namespace prefix = "o" ns = "urn:schemas-microsoft-com:office:office" />