Main content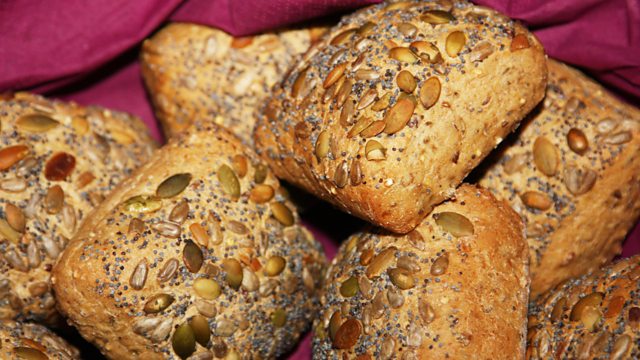 Gluten-free food on the NHS, Free digital magazines
Consumer affairs programme. Should people with coeliac disease receive gluten-free food on the NHS? And the digital magazines available free of charge from local libraries.
Should people with coeliac disease receive gluten free food on the NHS? Things like gluten free pasta and bread have been widely available on prescription to patients in England, but over the last year, it's been withdrawn in many parts of the country. The cost to the NHS is relatively small, but some believe the NHS should not be prescribing food to patients at all. We debate this, and examine if prescriptions are the best way to help people with coeliac disease to meet the extra cost of their food.
Public libraries have started to offer free digital magazines to their members. It allows people to download the digital version of many popular magazines on to their tablet or e-reader. You first need to be a member of the library, but then you don't even need to visit the library to download them. But how does the publishing industry benefit from allowing the public to read magazines without paying for them?
We follow the 14-year-old Sheffield schoolgirl, Lucy Gavaghan, as she visits Tesco headquarters to press supermarket bosses to stop selling eggs from caged hens. An online petition launched by Lucy has attracted over 270,000 signatures. Might she be able to persuade Tesco to change its policy?
The high street menswear store, Austin Reed, recently went into administration after more than a century of helping men to look their best in a suit. But as fashion evolves and styles change, we ask if the traditional gent's suit has a future.
Producer: Jonathan Hallewell
Presenter: Winifred Robinson.
Chapters
Elderly Carers

The number of carers in their 80s has risen according to figures today from Age UK.

Duration: 05:00

Suits

As men's fashion evolves - does the traditional suit have a future?

Duration: 06:31

Wonga Marketing

Why would a payday loan company offer to lend money to an under-age teenager?

Duration: 06:26

Returning Clothes

'Serial Returners' are helping to push up prices and are putting a strain on businesses.

Duration: 03:01

Eggs

What happened when a 14 year old schoolgirl challenged Tesco on animal welfare.

Duration: 04:19

Free Library Magazines

The libraries offering free access to digital editions of popular magazines.

Duration: 05:02

Gluten Free NHS

NHS funding for gluten free food for people with Coeliac disease is being withdrawn.

Duration: 06:58