Main content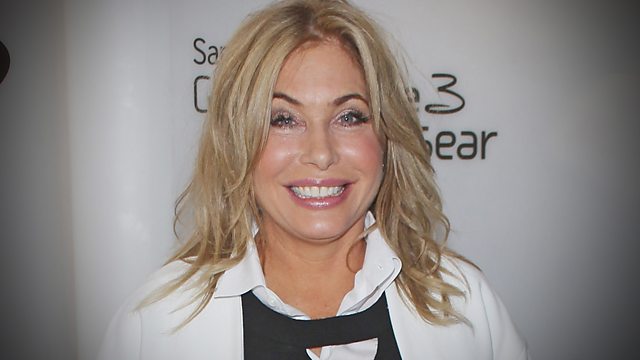 Brix Smith Start, Tanya Byron, Maggie O'Farrell
Former guitarist with the Fall, Brix Smith Start, on her life and career, Tanya Byron on how to help couples with unhealthy eating habits, and Maggie O'Farrell on her latest novel.
Brix Smith Start, former guitarist with The Fall, on her life, career and memoir The Rise, The Fall and The Rise.
Does the lifestyle you share with your partner have a greater influence on your chance of becoming overweight than your upbringing? Clinical psychologist Professor Tanya Byron believes it does and looks at the problem in her new BBC One series Lose Weight for Love. She speaks to couples who are locked in a cycle of over-eating that threatens not only their health, but their relationship. Jane speaks to Professor Byron about why couples are more likely to become obese together and speaks to Lisa and Steve who took part in the programme.
Maggie O'Farrell on her latest novel, This Must Be the Place. After her hugely successful debut, After You'd Gone, Maggie went on to win the Somerset Maugham Award for The Distance Between Us and the 2010 Costa Novel Award for Instructions for a Heatwave. In this latest novel, she introduces us to Daniel Sullivan, a man with a complicated life. A New Yorker living in the wilds of Ireland, he has children he never sees in California, a father he loathes in Brooklyn and a wife, Claudette, who is a reclusive ex-film star given to shooting at anyone who ventures up their driveway. Maggie joins Jane in the studio.
At least 1 in 5 adults over 50, in the UK aren't parents. This may or may not be choice based but either way it means that 20% of older people do not have children to offer help or support in old age. Kirsty Woodard is the founder of 'Ageing Without Children' and talks about the findings in their report 'Our Voices'. Ming Ho recently turned 50 and tells us her about her concerns about growing older on her own.
Presented by Jane Garvey
Produced by Jane Thurlow
Interviewed guest: Tanya Byron
Interviewed guest: Brix Smith Start
Interviewed guest: Maggie O'Farrell
Interviewed guest: Kirsty Woodard.
Chapters
Couples who over-eat

Tanya Byron talks about why couples are more likely to become obese together

Duration: 10:15

Brix Smith Start

The former guitarist with The Fall talks about her life and career

Duration: 16:40

Maggie O'Farrell

Maggie O'Farrell on her latest novel, This Must Be the Place

Duration: 07:34

Aging without children

Kirsty Woodard and Ming Ho talk about people who don't have children to offer help

Duration: 06:55

Credits

| Role | Contributor |
| --- | --- |
| Interviewed Guest | Tanya Byron |
| Interviewed Guest | Brix Smith Start |
| Interviewed Guest | Maggie O'Farrell |
| Interviewed Guest | Kirsty Woodard |
| Interviewed Guest | Ming Ho |
| Presenter | Jane Garvey |
| Producer | Jane Thurlow |