Main content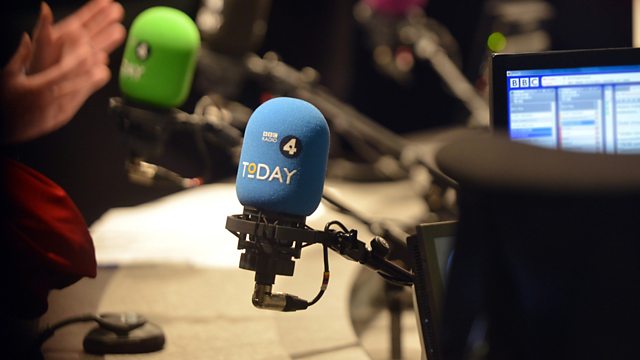 12/05/2016
Morning news and current affairs. Includes Sports Desk, Yesterday in Parliament, Weather and Thought for the Day.
Last on

Today's running order
0650
Today David Cameron will welcome delegates from countries across the world for a major anti-corruption conference. Earlier this week he was caught on camera in discussion with the Queen, describing two of the country's sending delegates to London as "fantastically corrupt". Chido Dunn is senior campaigner on government and corruption issues for Global Witness.  
0655
The Welsh Assembly was deadlocked yesterday after opposition parties ganged together in an unprecedented move to block Labour's First Minister Carwyn Jones from being re-nominated. Nia Griffith is shadow Welsh secretary.
0710
Culture Secretary John Whittingdale has confirmed that the government will publish its White Paper on the future of the BBC on Thursday. Lord Lester QC is senior human rights lawyer and Liberal Democrat peer.
0715
Ten UK cities are failing to meet World Health Organisation (WHO) standards for fine particle air pollution revealed in a new report. This type of air pollution leads to 29,000 early deaths across the country each year. Liz Hutchins is senior campaigner at Friends of the Earth.
0720
The government's plans to reform prisons in England and Wales depend on prisoners being released first. That is the view of former chief inspector of prisons Lord Ramsbotham. He's been speaking to BBC correspondent Ross Hawkins.
0730
More on David Cameron ahead of the 2016 anti-corruption summit describing two of the country's sending delegates to London as "fantastically corrupt": President of Afghanistan Ashraf Ghani spoke to presenter Mishal Husain.  
0740
An exhibition of new prints by artist Antony Gormley will be unveiled this week. The centrepiece of the series is a number of crude oil and petroleum jelly prints achieved by Gormley falling directly onto the paper with the weight of his body leaving a corresponding print. He will be speaking to us on the programme.
0750
Brazil's President, Dilma Rousseff, is accused of illegally manipulating finances to hide a growing public deficit ahead of her re-election in 2014. Brazil's Senate is debating whether Ms Rousseff should face a full impeachment trial. Mara Gabrili is PSDB Congresswoman from the opposition party.
0810
More on the government publishing its White Paper on the future of the BBC: Professor Lis Howell and Sky news and director of programmes at GMTV and Tessa Jowell is former culture secretary.  
0820
"Whiskey Tango Foxtrot" is based on the book by the American journalist Kim Barker about reporting from Afghanistan and will soon be released as a film starring Tina Fey. Ms Barker and veteran correspondent Dame Ann Leslie spoke to presenter Mishal Husain.
0840
The Turner Prize returns to Tate Britain with an exhibition of work by the four shortlisted artists opening in September. The winner will be announced in December at an awards ceremony live on the BBC, the new broadcast partner for the prize. Will Gompertz is the BBC's arts editor.
0850
John Nicholson, SNP spokesperson on Culture, Media and Sport joins us to discuss the government's plan to publish its White Paper on the future of the BBC.
All timings subject to change
Broadcast