Main content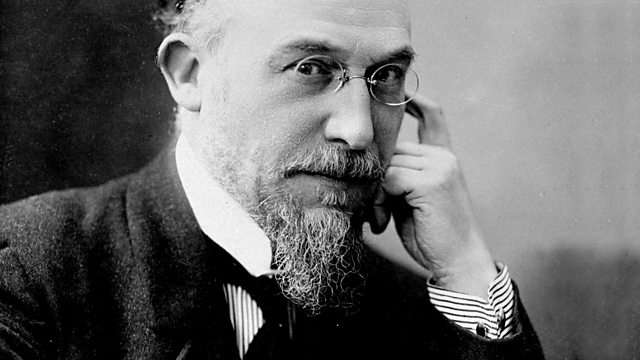 Donald Macleod discusses the contradictions that came together in Satie's earliest and most celebrated work, the Gymnopedies.
Satie the Onion: his surreal life viewed in reverse. Donald Macleod peels off the layers, reaching the core of mystic spirituality and boozy nightlife - and timeless Gymnopédies.
Erik Satie's existence was a self-consciously surreal one. He reinvented himself throughout his life, rather like a proto-David Bowie, changing his clothing, his friends, his beliefs, and his music. Though he claimed not to want to, he influenced countless others, but he had a tendency to dramatically fall out with almost everyone he was close to. This week, marking the composer's 150th anniversary, Donald Macleod peels off the layers to examine Satie's life in reverse, beginning with his significant posthumous influence and working back to the early music which is still a household name.
Reaching back to the 1880s and 90s Donald unpicks the core of Satie's inspirations: a curious mixture of highly mystical spirituality and rather earthy cabaret. Satie was happy to combine both, writing music for his own church of Jesus Christ the Conductor by day and consuming large quantities of absinthe as a pianist in the legendary Black Cat Café by night. The contradictory qualities of Satie all come together in his earliest and most celebrated work: the Gymnopédies.
Je te veux
Mady Mesplé, soprano
Aldo Ciccolini, piano
Messe
Gaston Litaize, organ
Choeurs Rene Duclos
Jean Laforge, chorus master
Pierre Dervaux, conductor
Uspud
Bojan Gorišek, piano
Le Fils des étoiles
Laura Gilbert, flute
Stacey Shames, harp
Gnossiennes
Jacques Loussier Trio
Gymnopédies No 1, 2, 3
Jean-Yves Thibaudet, piano
Producer: Dominic Jewel.
More episodes
Next
You are at the last episode