Main content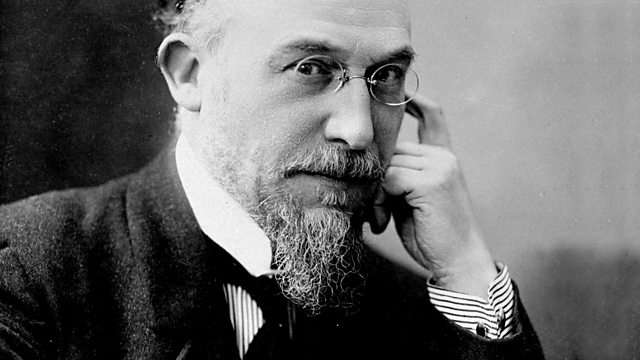 Donald Macleod explores Satie's absurd ballet Parade, a work that caused a riot. Plus La belle excentrique, Potrait de Soctrate (Socrates), Nocturnes and Sonata bureaucratique.
Satie the Onion: his surreal life viewed in reverse. Donald Macleod peels off the layers, examining the work which earned Satie his own riot: the absurd ballet, Parade.
Erik Satie's existence was a self-consciously surreal one. He reinvented himself throughout his life, rather like a proto-David Bowie, changing his clothing, his friends, his beliefs, and his music. Though he claimed not to want to, he influenced countless others, but he had a tendency to dramatically fall out with almost everyone he was close to. This week, marking the composer's 150th anniversary, Donald Macleod peels off the layers to examine Satie's life in reverse, beginning with his significant posthumous influence and working back to the early music which is still a household name.
In 1920, Satie was at the height of his popularity, having in the years since the first world war produced some of his most sincere works. This may partly be due to a subconscious liberation experienced at the death of his former friend Debussy in 1918. Prior to that, still relishing his involvement with Les Six, in 1917 he produced with Jean Cocteau and Pablo Picasso the surreal masterpiece Parade, a Diaghilev ballet from which the resulting riot nearly landed the composer in jail.
La Belle excentrique
Michel Plasson, conductor
Orchestre du Capitole de Toulouse
Nocturnes
Jean-Yves Thibaudet, piano
Portrait de Socrate from Socrates
Darius Milhaud, conductor
Suzanne Danco, soprano
Orchestra Sinfonica della RAI di Rome
Sonata bureaucratique
Yuji Takahashi, piano
Parade
Louis Auriacombe, conductor
Orchestre de la Societé des Concerts du Conservatoire
Producer: Dominic Jewel.