Main content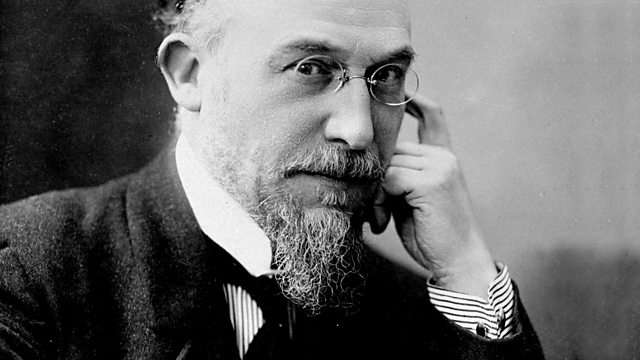 Donald Macleod focuses on Erik Satie's legacy and his controversial Dadaist final works. With Gymnopedie No 1, Vexations, Jack in the Box, Ludions and an excerpt from Relache.
Satie the Onion: his surreal life viewed in reverse. Donald Macleod peels off the layers, starting with his legacy and his controversial Dadaist final works including Relâche.
Erik Satie's existence was a self-consciously surreal one. He reinvented himself throughout his life, rather like a proto-David Bowie, changing his clothing, his friends, his beliefs, and his music. Though he claimed not to want to, he influenced countless others, but he had a tendency to dramatically fall out with almost everyone he was close to. This week, marking the composer's 150th anniversary, Donald Macleod peels off the layers to examine Satie's life in reverse, beginning with his significant posthumous influence and working back to the early music which is still a household name.
Several contemporary schools of composition draw on Satiean inspiration, not least Minimalism, celebrating Satie since John Cage's championing of his work in the 1960s. Such celebrity was denied Satie for much of his life, but when it did come in his final years, rather than rest on his laurels he courted controversy, ditching earlier friends including Les Six and embracing extreme Dadaism, epitomised in the remarkably forward-looking "Cinema", the filmed entr'acte for the ballet Relache.
Sonnerie pour réveiller le bon gros Roi des Singes (lequel ne dort toujours que d'un oeil)
Pierre Thibaud, trumpet
Bernard Jeannoutot, trumpet
Gymnopédie No 1
Jean-Yves Thibaudet, piano
Vexations
Alan Marks, piano
Satie orch Milhaud: Jack in the Box
Jack Lanchbery, conductor
Orchestra of the Royal Opera House, Covent Garden
Cinéma (Entr'acte from Relâche)
Sandra van Veen, Jeroen van Veen, pianos
Mercure
Pierre Dervaux, conductor
Orchestre de Paris
Ludions
Eva Lind, soprano
Jean Lemaire, piano
Seven Monkey Dances from Le Piège de Méduse
Bernard Desgraupes, director
Ensemble Erwartung
Producer: Dominic Jewel.
More episodes
Previous
You are at the first episode