Main content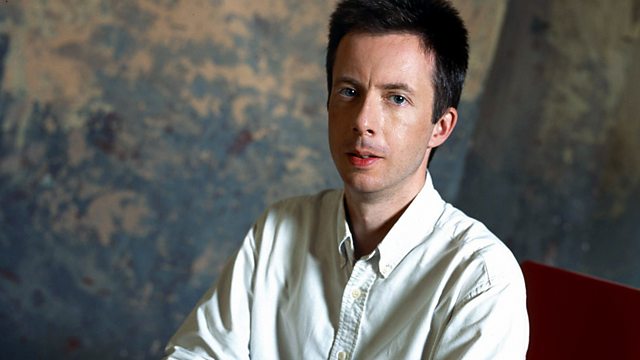 Proms 2015: Oliver Knussen conducts the BBC Symphony Orchestra
John Shea presents a concert from the 2015 Proms, with Oliver Knussen conducting the BBC Symphony Orchestra in works including Turnage's On Opened Ground, with Lawrence Power.
From the 2015 BBC Proms, Oliver Knussen conducts the BBC SO in a programme including Mark Anthony Turnage's 'On Opened Ground' with soloist Lawrence Power. Presented by John Shea.
1:01 AM
Dukas, Paul [1865-1935]
The Sorcerer's Apprentice - symphonic scherzo for orchestra
BBC Symphony Orchestra, Oliver Knussen (conductor)
1:12 AM
Turnage, Mark-Anthony [b.1960]
On Opened Ground - concerto for viola and orchestra
Lawrence Power (viola), BBC Symphony Orchestra, Oliver Knussen (conductor)
1:36 AM
Schuller, Gunther [1925-2015]
7 Studies on Themes of Paul Klee for orchestra
BBC Symphony Orchestra, Oliver Knussen (conductor)
1:59 AM
Scriabin, Alexander [1872-1915]
Le Poème de l'extase Op.54
BBC Symphony Orchestra, Oliver Knussen (conductor)
2:20 AM
Brahms, Johannes (1833-1897)
Violin Concerto in D major (Op.77)
Frank Peter Zimmermann (violin), Oslo Philharmonic, Jukka-Pekka Saraste (conductor)
3:01 AM
Grieg, Edvard (1843-1907)
String Quartet No 1 in G minor, Op 27
Ensemble Fragaria Vesca
3:36 AM
Gilse, Jan van (1881-1944)
Nonet (4 wind and 5 strings) (1916)
Members of the Viotta Ensemble (including the Ebony Quartet)
4:10 AM
Cavalli, Francesco (1602-1676)
Lauda Jerusalem (Psalm 147) - for 2 choirs & instruments
Concerto Palatino
4:20 AM
Kuula, Toivo (1883-1918)
Sorrow - for cello and orchestra (Op.2 No.2)
Arto Noras (cello), The Finnish Radio Symphony Orchestra, Jorma Panula (conductor)
4:26 AM
Schoeck, Othmar (1886-1957)
Zwei Klavierstücke (Op.29)
Desmond Wright (piano)
4:34 AM
Vivaldi, Antonio (1678-1741)
Concerto da Camera in G minor (RV.107)
Camerata Köln: Karl Kaiser (flute), Hans-Peter Westermann (oboe), Michael McCraw (bassoon), Mary Utiger & Hajo Bäß (violins), Rainer Zipperling (cello), Harald Hoeren (harpsichord)
4:44 AM
Norman, Ludvig (1831-1885)
Contrasts for Piano (Op.61 Nos 1 & 2) (1883-1884)
Bengt-ake Lundin (Piano)
4:48 AM
Bach, Johann Sebastian (1685-1750)
Violin Concerto No.1 in A minor (BWV.1041)
Musica Antiqua Köln, Reinhard Goebel (violin and conductor)
5:01 AM
Vedel, Artemy [1767-1808]
Choral Concerto No.5 "I cried unto the Lord with my voice" (Psalm 143)
Platon Maiborada Academic Choir, Viktor Skoromny (conductor)
5:10 AM
Chopin, Fryderyk [1810-1849]
Polonaise-fantasy for piano (Op.61) in A flat major
Yulianna Avdeeva (piano)
5:24 AM
Martucci, Giuseppe (1856-1909)
Notturno (Op.70 No.1)
Oslo Philharmonic Orchestra, Nello Santi (conductor)
5:32 AM
Haydn, Joseph (1732-1809)
2 Marches in E flat major for wind
Bratislavská komorná harmónia (Bratislava chamber harmony), Justus Pavlík (director)
5:38 AM
Durante, Francesco (1684-1755)
Harpsichord Concerto in B flat
Gerald Hambitzer (harpsichord), Concerto Köln
5:48 AM
Castelnuovo Tedesco, Mario (1895-1968)
Capriccio Diabolico for guitar (Op.85)
Goran Listes (guitar)
5:58 AM
Mozart, Wolfgang Amadeus (1756-1791)
Exsultate, jubilate - motet (K.165)
Ragnhild Heiland Sørensen (soprano), Norwegian Radio Orchestra, Takuo Yuasa (conductor)
6:13 AM
Beethoven, Ludwig van (1770-1827)
Cello Sonata in A major (Op.69)
Jong-Young Lee (cello), Keum-Bong Kim (piano)
6:37 AM
Palmgren, Selim (1878-1951)
Cinderella Suite (1902-3)
Finnish Radio Symphony Orchestra, George de Godzinsky (conductor).