Johnny Fenn, Oz Clarke, Emma Sherlock, Brian Mullin.
Libby Purves meets wine writer Oz Clarke; photographer Johnny Fenn; playwright Brian Mullin and Emma Sherlock, curator of free-living worms at the Natural History Museum.
Emma Sherlock is senior curator of annelids - free-living worms - at the Natural History Museum. She's also co-founder and president of the Earthworm Society of Great Britain. A zoology graduate, she is passionate about changing the public's perception of the humble earthworm. Her current project is studying the Asian worms in the Royal Botanic Gardens in Kew. Foreign species of worms are often inadvertently imported into Britain along with plants. There are 34 exotic species living here - mainly in greenhouses - which outnumber the 26 native species. The Natural History Museum, Cromwell Road, London SW7 5BD.
Brian Mullin is an American-born playwright who is writer in residence at Theatre503. His debut play, We Wait In Joyful Hope, is inspired by the story of his aunt, a former Catholic nun, who brought him up after the death of his mother. She founded one of the first shelters for homeless women in New York City. We Wait In Joyful Hope is at Theatre503, The Latchmere, 503 Battersea Park Road, London SW11.
Johnny Fenn was a Gurkha officer for 15 years before becoming a professional photographer. A week after the devastating earthquake in Nepal in 2015, he returned to the middle valleys of the country with his camera. In this area, the main recruitment region for Gurkha soldiers, he photographed local people left devastated after the disaster, recording their courage and dignity in the face of such turmoil. His book, Light and Life in the Middle Hills, is published by Unicorn.
Oz Clarke is a wine critic, broadcaster and writer. He combines wine and song in Drink to Music - a festival tour with the Baroque ensemble, Armonico Consort. The show investigates the links between wine from around the world and the music of the Baroque from Bach, Purcell and Vivaldi to the dance music of South America. Oz and Armonico Drink to Music is on tour.
Producer: Paula McGinley.
Last on
In the studio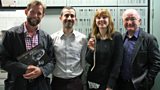 L-R: Johnny Fenn, Brian Mullin, Emma Sherlock (holding worm), Oz Clarke
Credits
| Role | Contributor |
| --- | --- |
| Presenter | Libby Purves |
| Interviewed Guest | Oz Clarke |
| Interviewed Guest | Johnny Fenn |
| Interviewed Guest | Brian Mullin |
| Interviewed Guest | Emma Sherlock |
| Producer | Paula McGinley |