Main content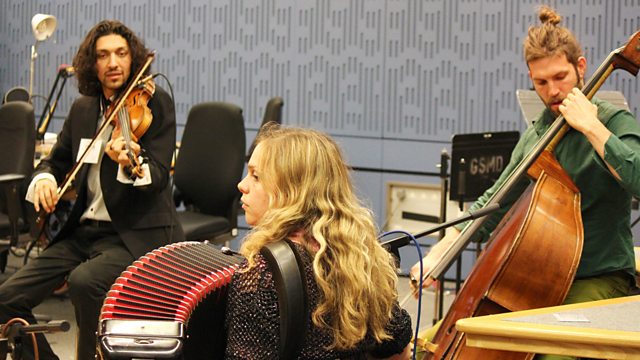 Lopa Kothari - Faith i Branko and Sam Lee's Nightingales
Lopa Kothari presents new music from around the world, plus a live session with Balkan duet Faith i Branko and a duet with nightingales.
Lopa Kothari with new music from across the globe, and a live session with Faith i Branko, a collaboration between an English circus accordionist and a traditional Roma violinist, whose formation in rural Serbia tells of a remarkable personal story. Also tonight, Sam Lee ventures one last time into the woods of Suffolk for a nocturnal session duetting with nightingales.
Every Spring, during the months of April and May, the woods of Sussex resound with the songs of the nightingale. This Spring, singer and folk song collector Sam Lee is venturing into the woods accompanied by musician colleagues who have volunteered to make music with the nightingales. These late-night sessions are being broadcast across a week of Late Junction and World on 3, Tuesday to Saturday, 10th to 13th May at around 11.30 pm each night. We'll hear what happens when nature's finest singers meet with human artistic creation.
Last on
Clips

Music Played
Joao Cirilio

Po d'Terra

Space Echo (The Mystery Behind The Cosmic Sound Of Cabo Verde Finally Revealed).
Analog Africa.
9.

Allen Toussaint

Delores' Boyfriend

American Tunes.
Nonesuch.
1.

Idris Ackamoor and the Pyramids

Rhapsody in Berlin

We Be All Africans.
Strut.
4.

Faith i Branko

Colo Branko

Sam Lee

&

Alice Zawadzki

Sam Lee's Singing with Nightingales

BBC Recording (Secret Location Nr Lewes).

Simdi Ensemble & Michel Goddard

Gel ey kardes

Eternal Love.
DREYER GAIDO.
4.

Mayito Rivera

Oye Me Quinto

Best of Cuba.
ARC Music.
5.

Nile Project

Abbay Mado (World Music Archive)

Performer: Nile Project. Performer: Meklit Hadero.

Boban Voz Piromanac

Ciganska Tuga (Heritage Track)

Faith i Branko

Boli Jivot

Bella Hardy

Good Man's Wife

Battleplan.
NOE RECORDS.
1.

Quantic

&

Flowering Inferno

A Life Worth Living (feat. U‐Roy & Alice Russell)

A Life Worth Living.
Tru Thoughts.
1.

Ernest Ranglin

Minuit

Performer: Ernest Ranglin. Performer: Baaba Maal.

In Search of the Lost Riddim.
Palm Pictures.
3.

Afro Celt Sound System

Mansani Cisse Taladh

The Source.
ECC RECORDS.
8.

Tashi Lhunpo Monks

Cham-choe and Nang-wa

Power of Prayer.
TASHI LHUNPO.
4.

Nomade Orquestra

Garuda

Nomade Orquestra.
Far Out Recordings.
4.

Celestine Ukwu

Obialu Be Onye Abiagbunia Okwukwe

Rough Guide to A World of Psychedlia.
Rough Guide.
5.
Broadcast