Main content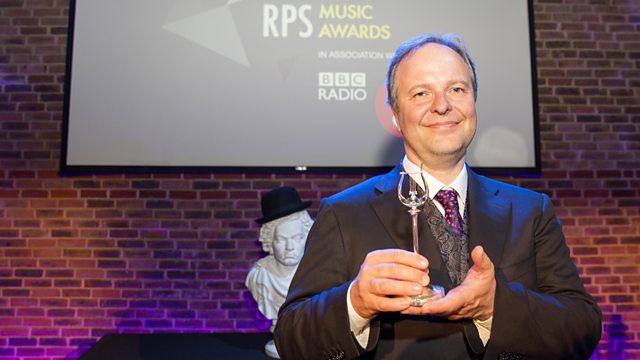 RPS Awards 2016
Andrew McGregor presents highlights from the 2016 Royal Philharmonic Society Music Awards ceremony, held at The Brewery in London.
Photo of conductor Sakari Oramo receiving his RPS Award (c) Simon Jay Price
The RPS Awards 2016
Andrew McGregor presents highlights of last night's ceremony at The Brewery in London, at which the winners of the 2016 Awards from the Royal Philharmonic Society were announced.
The RPS Music Awards are the highest recognition for live classical music-making in the United Kingdom and reflect their guiding principles of Excellence, Creativity and Understanding.
These independent awards were set up in 1989 to celebrate the outstanding musical achievements of both young and established, British and International, musicians.
The Awards are peer-judged. Each category is decided by an eminent jury from the music profession. The list of winners since 1989 reads as a roll call of the finest living musicians.
The awards honour a broad sweep of live music making including categories for performers, composers, inspirational arts organisations learning, participation and engagement. There is no restriction on the nationality of recipients, but the awards are for achievements within the United Kingdom.
The Royal Philharmonic Society has been at the heart of music for over 200 years and is dedicated to creating a future for music. It is one of the world's oldest music societies and has a thriving membership.