Main content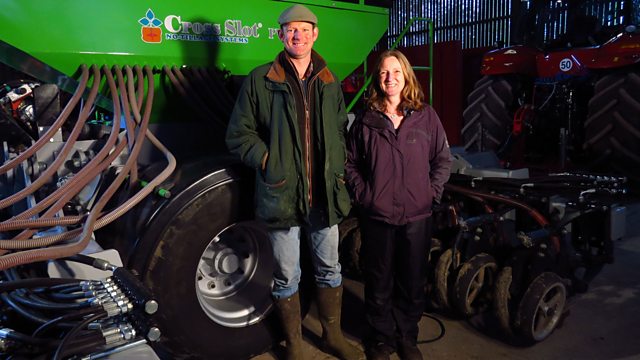 Hosier Farming System
Caz Graham visits a Wiltshire farm that has been innovating for nearly a 100 years and meets George Hosier, who continues the family tradition.
In the 1920s Arthur Hosier moved to Wiltshire, first buying a run-down farm nearly 900 feet above sea level on the Wiltshire-Hampshire-Berkshire borders. By the end of his career, through sheer hard work and the invention of a number of labour-saving machines, he was farming around 14,000 acres. His most famous invention was the mobile Milking Bail, which allowed an 'open air dairy' system to operate across the farm all year round. This and many other inventions were documented in the publication of a book 'The Hosier's Farming System' in the 1950s which remains something of a cult read in agricultural circles.
Caz Graham visits Wexcombe Manor farm to discover that Arthur's great grandson George Hosier is carrying on this tradition of innovation through a no-till arable system. Selling all of his cultivation equipment and importing a single cross cut drill from New Zealand, George no longer cultivates his land in a traditional way. Leaving the soil unturned, sowing a winter cover crop and grazing overwintered cattle and sheep, George's hope is that he will again improve the soil fertility and productivity through natural processes.
Producer: Andrew Dawes.
Last on
Broadcast