Main content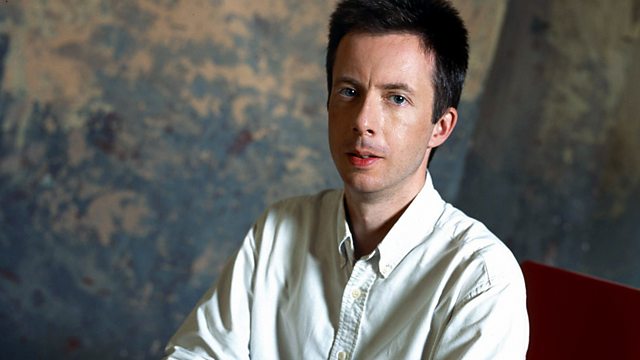 Violin Sonatas by Beethoven and Guillaume Lekeu
John Shea presents a recital from Romanian Radio of violin sonatas by Beethoven and Guillaume Lekeu.
John Shea presents a recital from Romanian Radio of violin sonatas by Beethoven and Guillaume Lekeu.
12:31 AM
Beethoven, Ludwig van (1770-1827)
Violin Sonata in A major, Op.30 no.1
Gabriel Croitoru (violin - Guarneri des Gesù, 1731), Horia Mihail (piano)
12:55 AM
Lekeu, Guillaume (1870-1894)
Violin Sonata in G major
Gabriel Croitoru (violin - Guarneri des Gesù, 1731), Horia Mihail (piano)
1:30 AM
Franck, César (1822-1890), text: Sicard & Louis de Fourcaud
Psyché - symphonic poem for chorus and orchestra (M.47), vers. original (1887-88)
The Netherlands Radio Choir, Netherlands Radio Philharmonic, Jean Fournet (conductor)
2:18 AM
Schumann, Robert (1810-1856)
Songs from Myrten (Op.25)
Olle Persson (baritone), Stefan Bojsten (piano)
2:31 AM
Chopin, Frédéric (1810-1849)
Piano Concerto No.1 in E minor (Op.11)
Håvard Gimse (piano), Stavanger Symphony Orchestra, Matthias Foremny (conductor)
3:12 AM
Grieg, Edvard Hagerup (1843-1907)
String Quartet No.2 in F (unfinished)
Ensemble Fragaria Vesca
3:33 AM
Röntgen, Julius (1855-1932)
Theme with Variations
Wyneke Jordans and Leo van Doeselaar (pianos)
3:44 AM
Handel, Georg Frideric (1685-1759)
Die ihr aus dunkeln Grüften den eiteln Mammon grabt (HWV.208) - No.7 from German Arias
Hélène Plouffe (violin), Louise Pellerin (oboe), Dom André Laberge (organ - 1999 Karl Wilhelm at the abbey church Saint-Benoît-du-Lac)
3:49 AM
Mozart, Wolfgang Amadeus (1756-1791)
"Vorrei spiegarvi, oh Dio" - aria for soprano and orchestra (K.418)
Cyndia Sieden (soprano), Prima La Musica, Dirk Vermeulen (conductor)
3:57 AM
Brahms, Johannes (1833-1897)
3 Lieder, arr. for cello and piano
Sol Gabetta (Cello), Bertrand Chamayou (Piano)
4:05 AM
Borodin, Alexander (1833-1887), arr. Sargent, Malcolm (1895-1967)
Nocturne (Andante) - 3rd movement from Quartet for strings no.2 in D major arr. for orchestra
Vancouver Symphony Orchestra, Bramwell Tovey (conductor)
4:13 AM
Debussy, Claude (1862-1918)
La plus que lente
Roger Woodward (piano)
4:18 AM
Jiránek, František [1698-1778]
Concerto for flute, strings and basso continuo in G major
Jana Semerádová (flute and artistic director), Collegium Marianum
4:31 AM
Foulds, John [1880-1939]
Keltic Overture (Op.28)
BBC Concert Orchestra, Ronald Corp (conductor)
4:39 AM
Coulthard, Jean (1908-2000), orch. Michael Conway Baker
Four Irish Songs
Linda Maguire (mezzo-soprano), CBC Vancouver Orchestra, Mario Bernardi (conductor)
4:48 AM
Gershwin, George [1898-1937]
3 Preludes for piano
Nikolay Evrov (piano)
4:55 AM
Debussy, Claude [1862-1918]
Rhapsodie for Saxophone and Orchestra, arr. for saxophone and piano
Miha Rogina (saxophone), Jan Sever (piano)
5:07 AM
Rodrigo, Joaquín (1901-1999)
Concierto serenata for harp and orchestra (1952)
Nicanor Zabaleta (harp), Zagreb Philharmonic Orchestra, Gennadi Rozhdestvensky (conductor)
5:28 AM
Fontana, Giovanni Battista (c.1592-1631)
Sonata undecima for cornet, violin and bass continuo
Le Concert Brisé - William Dongois (cornet/director), Christine Moran (violin), Carsten Lohff (harpsichord), Anne-Catherine Bucher (organ/harpsichord), Benjamin Perrot (theorbo)
5:37 AM
Bach, Carl Philipp Emanuel (1714-1788)
Concerto in E flat major for harpsichord and fortepiano (Wq.47)
Michel Eberth (harpsichord), Wolfgang Brunner (fortepiano), Slovenicum Chamber Orchestra, Uros Lajovic (conductor)
5:55 AM
Duruflé, Maurice (1902-1986)
Quatre motets sur des thèmes grégoriens (Op.10)
Talinn Music High School Chamber Choir, Evi Eespere (director)
6:04 AM
Jora, Mihail (1891-1971)
Sonatine for piano (Op.44)
Ilinca Dumitrescu (piano)
6:15 AM
Mendelssohn, Felix [1809-1847]
The Hebrides (Fingal's Cave) - overture Op.26
Polish Radio Symphony Orchestra, Marcin Nalecz-Niesiolowski (conductor)
6:26 AM
Maxwell Davies, Peter (1934-2016)
One star, at last
BBC Singers, Stephen Cleobury (conductor).