Main content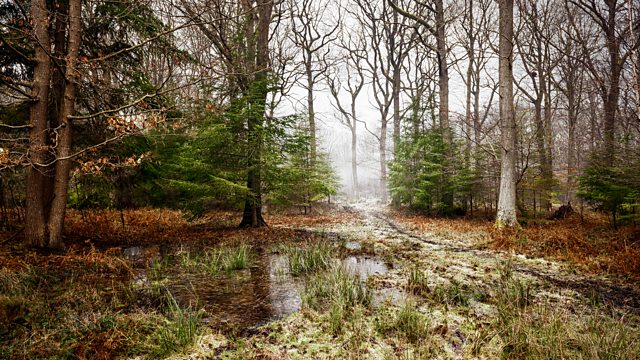 Once upon a Time...
Jim Broadbent and Helen McCrory with fairy tales, ancient and modern, creepy and funny, from Perrault and Grimm to Roald Dahl and Angela Carter. Music from Bach to Steve Reich.
Once upon a time, quite recently, two of Britain's leading actors read a selection of fairy tales and fairy tale-inspired poetry and prose. Join Jim Broadbent and Helen McCrory as they enter a deep, dark forest of texts: some funny and irreverent, others creepy and sinister.
Along the way they find not only Charles Perrault and a pair of Grimm brothers, but also the likes of Roald Dahl and Carol Ann Duffy, Angela Carter and Italo Calvino. Stay close to Jim and Helen! Because over there it looks like a scary bit of Freudian analysis is going to jump out and make you feel a bit queasy. And what's that you hear? Yes, it's music by Tchaikovsky, Schoenberg, and Steve Reich, among others...
David Papp (producer).
Music Played
Timings (where shown) are from the start of the programme in hours and minutes
Anon

Once upon a time, read by Jim Broadbent and Helen McCrory

Edward Thomas

The Dark Forest, read by Helen McCrory

John Masefield

There was an evil in the nodding wood, read by Jim Broadbent

Italo Calvino (trans William Feaver)

The forest on the superhighway (from Marcovaldo), read by Jim Broadbent

William Shakespeare

Romeo and Juliet (Act I, Scene IV), read by Jim Broadbent

Marina Warner

From the Beast to the Blonde, read by Helen McCrory

Angela Carter

The Bloody Chamber, read by Helen McCrory

John Fuller

Fairy Tale, read by Jim Broadbent

Charles Perrault

Sleeping Beauty in the Wood, read by Helen McCrory

Svetlana Gouzenko

Before Igor: My memories of a Soviet Youth, read by Helen McCrory

Anne Sexton

Cinderella, read by Helen McCrory

Bruno Bettleheim

The Uses of Enchantment, read by Jim Broadbent

Sylvia Plath

Lorelei, read by Helen McCrory

Carol Ann Duffy

Mrs Rip Van Winkle, read by Helen McCrory

Roald Dahl

George's Marvellous Medicine, read by Jim Broadbent and Helen McCrory

William Shakespeare

The Tempest (Act IV Sc. I), read by Jim Broadbent

Producer's Note - Fairy Tales

'Once upon a time…' Who doesn't remember a bedtime which began with those words and the thrill they generated? The phrase immediately conjures up a world of familiar characters and surroundings; transformations, setbacks, or victories; unlikely situations and magic. It's a world as likely to send shivers down your spine as to be funny, to comfort and reassure. 

That fairy tales have been told and retold down the centuries and continue to be the subject of endless study and fascination is testament to their atavistic power. This edition of Words and Music is a selection of the familiar and little known, ancient and modern and yet only barely grazes the surface of its theme.

Jim Broadbent and Helen McCory begin with a generic list of familiar settings and characters but soon Schönberg's Verklärte Nacht – Transfigured Night – sets the  scene for that most terrifying of all fairy tale places. 'Dark is the forest and deep', says Edward Thomas; 'a place of blood,' according to John Masefield, 'Where tortured spirit cried from murdered bone'.

A mid-twentieth century forest next, from Italo Calvino (himself author of a comprehensive volume of Italian folk tales). The short stories of Marcovaldo show the downside of the post-War Italian economic miracle. For the dim-witted Marcovaldo, existence is a perpetual struggle against poverty and urban life and, confounded by authority or outwitted by his children, his every scheme is bound for failure.  The forest on the superhighway sees Marcovaldo and his family sitting in their freezing apartment, having burnt the last fuel for their fire. His youngest son, inspired by a fairy tale about the son of a woodsman, decides to go and chop wood in the forest with his brothers. Never having been out of the city they mistake roadside billboards for a forest and chop down one of the 'trees', returning home in triumph and besting their father's meagre handful of damp twigs collected from the park.

The third part of Steve Reich's Drumming is the musical foil for the nocturnal ride of  Mab, the malevolent queen of the fairies (fairies are always sinister in Shakespeare), as described by Mercutio in Romeo and Juliet. Marina Warner is one of the great fairy tale scholars of our times and in this passage from the introduction to From the Beast to the Blonde, she describes her childhood relish for fairy tales which 'like romance… could remake the world in the image of desire'. And so to Angela Carter, one the last century's great re-tellers of fairy tales. Carter's The Bloody Chamber is a riff on the legend of serial wife murderer Bluebeard. The short story's blend of eroticism and death is underlined in this scene where the teenage heroine sits with her husband-to-be at the opera, at once thrilled and appalled by the effect of Wagner's Tristan und Isolde.

OK, so it's high time for a prince and princess or two. If the ending of John Fuller's Fairy Tale is not the happy one the princess hopes for ('But worse than all the sniggers of the wood,/The waiting Prince was ugly, pale and good'), then the Grimm Brothers' The Frog Prince is more like it. The abused amphibian is transformed 'into a handsome Prince with beautiful eyes,' becoming the princess's 'dear companion and betrothed.' (It's Not That Easy) Bein' Green sings a wistful Frank Sinatra. Was covering a song originally written for Kermit the Frog a fairy tale-like reversal of fortune for the great crooner, I wonder?

Bookending Charles Perrault's classic Sleeping Beauty in the Wood are two classics of fairy tale music by Ravel and Tchaikovsky. If the evil fairy's narcoleptic spell in Sleeping Beauty was broken by the Prince's kiss, the spell of fairy fantasy suffers a cruel blow in a politically correct Soviet school play recalled in Svetlana Gouzenko's memoir. In this extract from Before Igor: My memories of a Soviet Youth Cinderella and other favourite fairy tale characters (or 'non-Soviet elements') are put on trial and found guilty of spying and betraying the working class, among other crimes, and led away to be shot, distress and deafening uproar in the audience the result.

We're in the United States for Anne Sexton's acerbic Cinderella, where a litany of unlikely and tartly observed happy endings of ordinary folk culminates with that of the Prince and Cinderella, their 'darling smiles pasted on for eternity./ Regular Bobbsey Twins.' Wendy Carlos at the Moog provides appropriate music.

Whatever you do, don't read The Uses of Enchantment as a bedtime story to your kids. Bruno Bettleheim's Freudian analysis of fairy tales (in this case Cinderella) will give them nightmares quicker than you can say 'sibling rivalry, castration anxiety, slipper-vagina and temporary penis'. Mahler at his most angst-laden, the crisis point at the heart of his tenth symphony's first movement, seems an apposite response to such stuff; it also serves as the background to Sylvia Plath's Lorelei with its suicidal desire for the bottom of the river: 'Stone, stone, ferry me down there.'

After sinking like a 'stone/into the still, deep waters/of late middle age' Carol Ann Duffy's Mrs Rip Van Winkle begins to enjoy life. Especially welcome is the lack of physical relations with her sleeping husband. But all good things come to an end, in this case when Rip wakes up and rattles his Viagra to Mercer Ellington's Things Ain't What They Used to Be.

Roald Dahl must be one of the most successful writers of modern fairy tales for children. The essential ingredients of fear, magic, empowerment and transformation are bundled up with a huge sense of fun in George's Marvellous Medicine, especially in this tour de force from Helen McCrory and Jim Broadbent (as you've probably never heard him). Anarchic Ligeti leads to serene Bach and Prospero's valedictory speech from Shakespeare's The Tempest: 'Our revels now are ended.../…We are such stuff/As dreams are made on, and our little life/Is rounded with a sleep.'

 

David Papp (producer)