Main content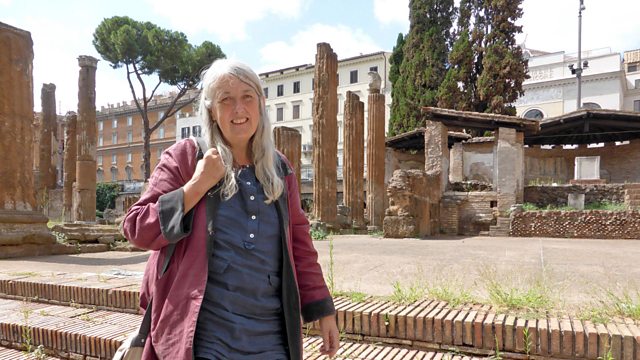 Mary Beard takes in the mythology, history and archaeology of Rome. In the first episode, Mary reaches back to the myths and legends of the origins of Rome.
In this first episode, Mary Beard reaches back to the myths and legends of the origins of Rome to gain an insight into the deep-rooted psyche of the people of Rome - a city born through fratricide and rape. But from the very beginning, Rome was also an asylum for outcasts and exiles and because of this, it adopted a uniquely inclusive approach towards its neighbours and defeated enemies. The expansion of the city brought territory in first in Italy and Sicily, where Rome first came head to head and eventually defeated her great rival, Carthage.
Mary then travels to Greece, where Rome adopted a complex mix of brute force and cultural cringe, and France, where she finds evidence of war methods akin to outright genocide. In typical myth-busting style, Mary argues that the period of greatest Roman expansion occurred when Rome itself was little more than a provincial backwater, a shanty town of mud and brick. The marble, monumental Rome we know came about because of imperial conquest - not the other way round. And likewise, the creation and possession of an empire transformed the politics of Rome forever, creating the conditions for one-man rule, and ending the centuries-old Roman Republic.
Credits
| Role | Contributor |
| --- | --- |
| Presenter | Mary Beard |
| Writer | Mary Beard |
| Photographer | Craig Hasting |
| Photographer | Liam Ayres |
| Photographer | Marco Rossi |
| Aerial Photographer | Denis Gliksman |
| Sound | Timothy Hodge |
| Colourist | Martin Mayos |
| On-line editing | Martin Mayos |
| Re-recording mixer | Gavin Allingham |
| Production Coordinator | Isabelle Burn |
| Production Manager | Claire Smith |
| Assistant Producer | Johnny Crockett |
| Film Editor | James Dowd |
| Executive Producer | Martin Davidson |
| Executive Producer | Richard Bradley |
| Director | Chris Mitchell |
| Series Producer | Caterina Turroni |
| Production Company | Lion Television |
Broadcasts
BBC Two

except Northern Ireland & Scotland