Main content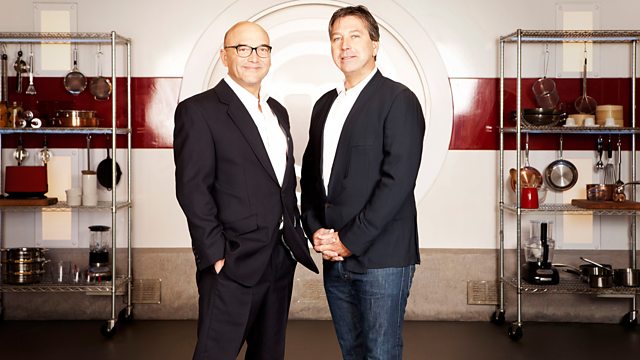 The semi-finals continue as two teams serve lunch to members of the Royal Navy on board anti-submarine frigate HMS Northumberland. The weakest team must return for a cook-off.
The MasterChef semi-finals continue with a spectacular challenge, as the eight remaining best cooks in the competition head to the biggest naval base in western Europe to embark on a special mission to serve lunch to members of the Royal Navy on board one of its longest-serving ships, anti-submarine frigate HMS Northumberland.
The semi-finalists face the enormous challenge of running their own kitchens in two specially constructed catering tents. Split into two teams of four, each team have to create two main courses and a dessert to feed 110 members of the ships company.
With less than four hours to deliver, organisation and teamwork are essential for success. It's vital the two teams perform at their absolute best and produce a lunch worthy of the occasion, because after judging their food, John and Gregg pick the weakest team to return to the MasterChef kitchen, where they must cook-off against each other in a special Invention Test.
The contestants must create a stunning dish from the leftover produce from the previous challenge, which includes cod heads and trimmings, vegetables, fruit, bacon, pancetta and black pudding.
With one more contestant going home after this, the battle is on to stay in the competition and take another step towards being crowned MasterChef Champion 2016.
Credits
| Role | Contributor |
| --- | --- |
| Judge | John Torode |
| Judge | Gregg Wallace |
| Series Producer | Katie Attwood |
| Director | David Crerar |
| Producer | Lucy Davis |
| Producer | Neil Wilmer |
| Editor | Tom Savage |
| Production Manager | Ross Booker |
| Production Company | Shine TV |