Main content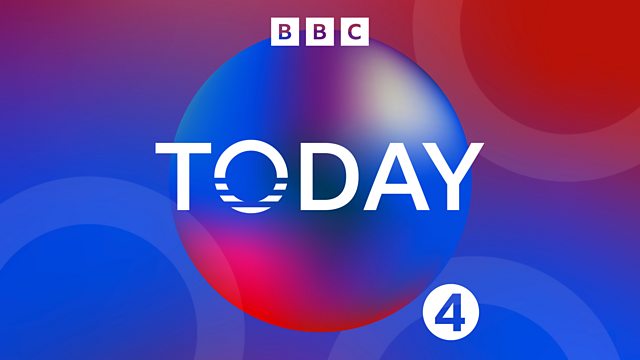 05/05/2016
Morning news and current affairs. Includes Sports Desk, Yesterday in Parliament, Weather and Thought for the Day.
Last on
Today's running order
0650
The prime minister has said there are "ethical" issues to consider in deciding whether the NHS should offer a DNA test during pregnancy for chromosomal abnormalities such as Down's syndrome. Jane Fisher is director of the national charity Antenatal Results and Choices (ARC) and she is on the National Screening Committee.
0710
A proposal aimed at breaking the deadlock in the junior doctors' dispute through fresh talks has been made by medical colleges and faculties. This would mean that the government would put on hold its plan to impose a new contract. Professor Dame Sue Bailey is chair of the Academy of Medical Royal Colleges.
0715
Excalibur Steel is the name being given to a team attempting to mount a management buyout with the backing of a billionaire Welshman. However they are not willing to keep the company's pension liabilities. Stuart Wilkie is CEO Excalibur Steel (a management buyout team).   
0720
Daily newspaper the New Day is reportedly set to close just nine weeks after it was launched. Jane Martin is head of media at the Guardian and Amol Rajan, the last editor of the Independent print edition, is now editor-at-large at the Independent.
0730
The US is stepping up its attacks on the group known as Islamic State using unconventional warfare. The Pentagon says it's using electronic and cyber-attacks combined with the bombing campaign which is now in its second year to try to break the extremists 'will to fight'. Joining us is Major General Jonathan Shaw who was Head of Cyber Defence for the Ministry of Defence.
0740
The director Richard Linklater is known for films that are usually more about the passage of time and growing up than about plot. 'Boyhood' was filmed over a 12 year period with the main character cast when he was six years old. His new film 'Everybody Wants Some!!' is rather more raucous - the main characters are teenagers embarking on a new stage of life. He speaks to Mishal Husain.
0750
There are renewed calls for a public inquiry into the battle between the police and striking miners thirty two years ago at Orgreave. Campaigners for an inquiry into the incident claim that it would reveal the same pattern of police malpractice and cover up as happened at Hillsborough. Both events were managed by South Yorkshire Police. Gareth Peirce is solicitor who represented many of the miners on trial in 1985 and was involved in drafting the submission for an inquiry to Theresa May.
0810
For further analysis on whether the NHS should offer a DNA test during pregnancy for chromosomal abnormalities such as Down's syndrome – see 0650. We are joined by Professor Basky Thilaganathan who is director of foetal medicine at St George's Hospital Foundation Trust and actor Sally Phillips whose 11-year-old son has Down's syndrome.
0820
British scientist Professor Carl Jones has won the Indianapolis Prize, the world's leading award for animal conservation, for his ground-breaking work saving nine species from extinction, including the rarest bird in the world (Mauritius kestrel which was down to one breeding pair). He joins us live on the programme.
0830
Ohio Governor John Kasich has dropped out of the presidential race after struggling to gain traction against Republican front-runner Donald Trump. Frank Luntz is Republican pollster and analyst.
0840
Researchers from Oxford University have found that symptoms of severe paranoia can be reduced with the use of virtual reality. Professor Daniel Freeman is from Oxford University's Department of Psychiatry.
0845
'30 Days of The Smiths' is a soundscape created for the Week 53 arts Festival at the Lowry in Salford. The work, which premieres tonight, explores the impact that having the surname Smith has on people. And one of Britain's most influential indie bands, The Smiths, have allowed their music to be used. The BBC's entertainment correspondent Colin Paterson reports.
0850
In a new book, Dr Seamus O'Mahony argues that death has become "over-medicalised", with people being subjected to unnecessary and often futile procedures and treatments in their final days. Dr Seamus O'Mahoney is Consultant Gastroenterologist at Cork University Hospital and author of 'How We Die Now'. Claire Henry is Chief Executive of the National Council for Palliative Care.
Broadcast