Main content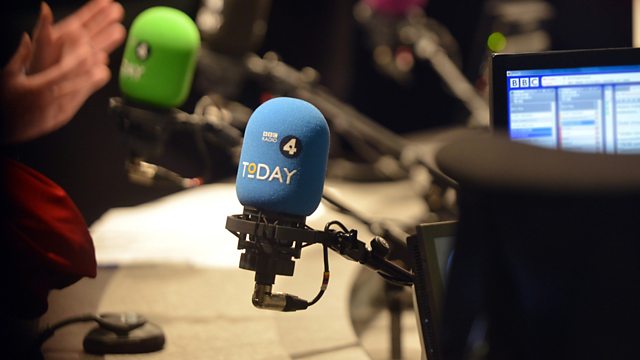 04/05/2016
Morning news and current affairs. Includes Sports Desk, Yesterday in Parliament, Weather and Thought for the Day.
Last on

Today's running order
0650
According to the polls, tomorrow's Scottish Parliament election will see the SNP tighten their grip on power at Holyrood. What would another four years of SNP in Scotland's devolved government mean for the country? The BBC's James Naughtie reports.
0655
Throughout the programme we will be reporting from Germany about the prospect of leaving the EU referendum. Matthew Price is the Today programme's chief correspondent and joins us from Hanover.
0710
Ted Cruz has announced he is ending his campaign for the US Republican presidential nomination, after losing heavily to Donald Trump in the Indiana primary. Nick Bryant is the BBC's New York correspondent and Paul Gigot is editor of the Wall St Journal Editorial Page and chair of the Pulitzer Prize is in London.
0715
The announcement of a truce between Syrian city of Aleppo and Russia is still pending. Stephen O'Brien is Under-Secretary-General for humanitarian affairs and emergency relief for United Nations.
0720
Britain's Halley Research station in the Antarctic is in danger of floating away. A chasm has started to form on the ice shelf on which it sits which means it could soon be cast adrift which is why there is a proposal to tow it onto firmer ice. Tim Stocking is director of operations at British Antarctic Survey.
0730
For further analysis on the prospect of leaving the EU – see 0655. Matthew Price is the Today programme's chief correspondent and joins us from Hanover.
0740
In 2005 just over one in ten UK films was directed by a woman. But despite attempts to improve gender equality within the industry in over a decade, hardly anything has changed. Susanna White is film director of Nanny McPhee, Jane Eyre and Bleak House.
0750
Truvada is an antiretroviral drug used to treat men who have HIV. Later this month NHS England will decide whether to restart the process to commission Truvada in the UK for preventative use in a programme known as PrEP. Miles Alexander uses Truvada preventatively and Sheena McCormack is clinical epidemiologist and chief investigator of the PROUD study conducted in the UK which showed PrEP is effective at preventing HIV.
0810
For further analysis on the drop out of Tez Cruz from the US election race – see 0710. Jon Sopel is the BBC's North America Editor
0820
The Commons will debate whether unaccompanied migrant children should be let in to the UK. Heidi Allen is Conservative MP and Sir Eric Reich is President of the Association of Jewish Refugees.
0830
MPs on the Transport Select Committee are accusing the government of dithering over a decision on a new runway at Heathrow or Gatwick. Louise Ellman is chair of the Transport Select Committee and Daniel Moylan is deputy chairman of Transport for London and adviser on aviation to Boris Johnson, the Mayor of London.
0840
Tension is rising once again between Israel and Palestine. There are no peace talks, and no attempt is being made to revive them.  The BBC's Middle East editor Jeremy Bowen reports from Jerusalem and the West Bank.
0850
A sketchbook by Stanley Spencer from 1907 - which contains the earliest known examples of his work – has been discovered by his family. It will form part of a new exhibition at the Hepworth Wakefield opening next month to mark the 125th anniversary of his birth. John Spencer is Stanley Spencer's grandson and Eleanor Clayton is curator at the Hepworth Wakefield.  
Broadcast