Main content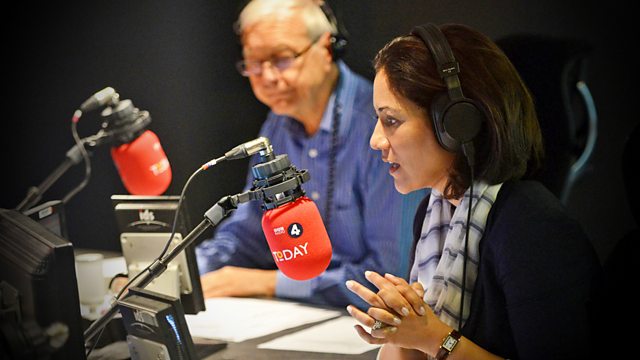 02/05/2016
Morning news and current affairs. Including Sports Desk, Weather and Thought for the Day.
Clips

Today's running order
0650
On Thursday voters in Wales will elect members to the National Assembly. Much of the campaigning has been overshadowed by the Tata steel crisis in Wales and EU referendum. Hywel Griffith is the BBC's Wales correspondent.
0653
The last group of wild hedgehogs living in a Royal Park could delay plans for HS2, the High Speed rail line linking London with Birmingham, Manchester and Leeds. The Zoological Society of London has submitted a petition to the House of Lords.  Hugh Warwick is from the British the British Hedgehog Preservation Society.
0655
New research shows that if today's young adults were as 'mature' as young people from the pre-war generation, voter turnout among young people in the UK would be 12 percentage points higher. Kaat Smets is researcher in the Politics Department at Royal Holloway, University of London.
0710
Business secretary Sajid Javid today announced a consultation to consider new laws on how tips are treated in restaurants. Ufi Ibrahim is the CEO of the British Hospitality Association.
0715
The prospect of a second referendum on Scottish independence dominated the final televised debate in in the election campaign for the Scottish parliament last night. Colin Blane is the BBC's Scotland correspondent.  
0720
Patients are having 'do not resuscitate' orders secretly imposed on them without their families being told, according to a national audit of dying patients carried out by the Royal College of Physicians. Professor Sam Ahmedzai is chairman of the audit and author of recent guidelines on care of the dying.
0730
The US Secretary of State John Kerry is in Geneva today for talks with the UN's Syria envoy Steffan de Mistura on salvaging the crumbling ceasefire, especially in the contested city of Aleppo. Muskilda Zancada is MSF head of mission for Syria and Tom Fletcher is former UK ambassador to Beirut.
0740
During the short period of Nazi rule from 1933 to 1945, a great number of buildings were constructed around Germany. When World War Two came to an end, Germany was left with a significant inheritance of their buildings. What has happened to them since? We speak to Colin Philpot, author of 'Relics of the Reich'.
0750
Sir Philip Green, who sold BHS for a pound last year, and his wife, Tina, have been called by MPs to give evidence about the large deficit in the company's pension fund. Christine Farnish is chair of the Peer-to-Peer Finance Association and Iain Wright MP is Chair of the Business Select Committee.
0810
For further analysis of the 2016 Scottish Parliament election - see 0715. Speaking to us on the programme is Scotland First Minister and SNP leader, Nicola Sturgeon.
0820
There are at least three former interpreters for the British army who are at risk of being deported from the UK because they escaped Afghanistan to Europe. Lord Ashdown is former leader of the Liberal Democrats.
0830
It is 50 years today since the personal identification number (PIN) technology was invented - the system that allows us to access money 24 hours a day from cash machines. James Goodfellow is the inventor of PIN technology.
0840
North Korea is under heavy UN sanctions after its fourth nuclear test in January. The BBC is the only Western broadcaster currently in the country accompanying a group of Nobel prize-winners. The Workers' Party will hold its first Congress in nearly forty years.  The BBC's Steve Evans is in Pyongyang to cover it and accompany the Nobel prize-winners.
0850
The man who taught former England rugby player Jonny Wilkinson to kick can teach you to do whatever you do - better.  Dave Alred has written a book about how to use his principles in wider life. The BBC's Today programme presenter Justin Webb has been speaking to him.
0855
For further analysis on consultations about how tips are treated in restaurants – see 0715. Jay Rayner is the Observer's restaurant critic. Jonathan Harden is an actor who spent many years supplementing his income as a waiter and he is the creator of 'The Honest Actor' podcast and writes a weekly column on actors' second jobs.