Main content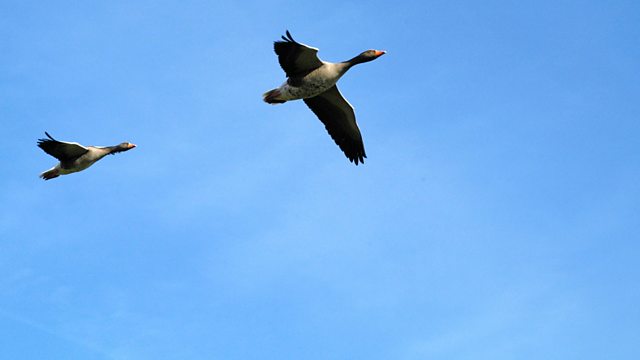 Who Has Seen the Wind?
Texts and music on the theme of the wind, with readings by Cheryl Campbell and Neil Pearson. With Defoe, Melville and Roethke, plus Mozart, Debussy, Bach and Nina Simone.
Who Has Seen the Wind? Poets, writers and composers have sought its company many times. Today Cheryl Campbell and Neil Pearson read from Christina Rossetti and Daniel Defoe, Herman Melville, George Macdonald and Theodore Roethke with music from Mozart and Debussy and Bach, The Chieftains and Nina Simone. The wind roars, breezes and just occasionally holds its breath in a story of tempestuous emotion involving a drunk and a cat, rooftop-rides and madness at sea. Wild, strange, maddening and exhilarating - the winds are passing by.
Reader: Cheryl Campbell
Reader: Neil Pearson
Producer: Jacqueline Smith.
Music Played
Timings (where shown) are from the start of the programme in hours and minutes
Christina Rossetti

Who Has Seen The Wind, read by Cheryl Campbell

Aldhelm translated by Michael Lapidge and James Rosier

Anglo Saxon Riddle, read by Neil Pearson

A. E. Housman

extract from poem 'A Shropshire Lad', read by Cheryl Campbell

Daniel DeFoe

The Storm: Or, A Collection of the Most Remarkable Casualties and Disasters Which Happened in the Late Dreadful Tempest Both By Sea and Land, read by Neil Pearson

Daniel DeFoe

The Storm: Or, A Collection of the Most Remarkable Casualties and Disasters Which Happened in the Late Dreadful Tempest Both By Sea and Land, read by Neil Pearson

W. B. Yeats

poem 'Leda and The Swan', read by Cheryl Campbell

Gerald Manley Hopkins

poem 'The Windhover To Christ Our Lord', read by Neil Pearson

James Stephens

poem 'Tree and Wind', read by Cheryl Campbell

Henry Wadsworth Longfellow

extract from poem My Lost Youth, read by Neil Pearson

Charles Kingsley

The Water-Babies, read by Cheryl Campbell

Charles Kingsley

The Water-Babies, read by Cheryl Campbell

Charles Kingsley

The Water-Babies, read by Cheryl Campbell

Herman Melville

extract from 'Moby Dick', read by Neil Pearson

Herman Melville

extract from 'Moby Dick', read by Neil Pearson

Theodore Roethkoe

poem 'Child on Top of Greenhouse', read by Neil Pearson

George Macdonald

short passage from novel 'At The Back of the North Wind', read by Cheryl Campbell

Carl Sandburg

poem 'Wind Song', read by Neil Pearson

Robert Louis Stevenson

poem 'To S.R. Crockett', read by Cheryl Campbell

James Joyce

Poem 'Watching The Needleboats at San Sabba', read by Neil Pearson

The King James Bible

Line about the Lord and the Wind from Jeremiah, read by Cheryl Campbell

Daniel Defoe

The Storm: Or, A Collection of the Most Remarkable Casualties and Disasters Which Happened in the Late Dreadful Tempest Both By Sea and Land, read by Neil Pearson

Daniel Defoe

The Storm: Or, A Collection of the Most Remarkable Casualties and Disasters Which Happened in the Late Dreadful Tempest Both By Sea and Land, read by Cheryl Campbell

Daniel Defoe

The Storm: Or, A Collection of the Most Remarkable Casualties and Disasters Which Happened in the Late Dreadful Tempest Both By Sea and Land, read by Neil Pearson

Philip Larkin

extract from poem 'Autumn', read by Cheryl Campbell

E. E. Cummings

poem ' A Wind Has Blown The Rain Away And Blown', read by Neil Pearson

Producer's Notes:

My Wind Story is This.  I was out walking along the ridge of a small Scottish island.  It was a beautiful day.  Soft mossy turf springing under my feet, tiny early Spring flowers scattered across it – the sun out and the gentlest breeze breathing warmly over my face – a wonderful day - think the sound of Mozart and Soave Sia Il Vento or perhaps Ravel and the ravishing Daphnis et Chloe.  Then, a minuscule dimming of light; looking back there's a gaping black maw instead of sky – it races from the north and already, sea and horizon have been swallowed up.  The light goes out.  A sudden blow.  I'm off my feet, burling over and over, and finally off the ridge down into a small sheltered cutaway by a track.  I shelter In its lee for the next ten, maybe twenty minutes.  I'm not alone – there are five of us for company; as well as myself, two sheep, one hare and a small speckly bird.  (I like to think it was a Twite, just the kind of bird that turns up before and after high winds.)  Above we five roared a northern blast in full attack mode.  It made me think of a fiendishly difficult Chopin piece I once tried very hard to learn to play…. Beethoven or Bax would have enjoyed that brief tempest. Britain's Atlantic climate is to the wind, what the Serengeti is to the lion or wildebeest, vulture or zebra.  So much wind, so many winds, hunting across the land and talking endlessly with the Sea.


So Who Has Seen The Wind?  There are many stories, so much music.  Daniel Defoe's tongue-in-cheek rehearsal of the application of scientific enquiry to the nature of wind, Yeats' wonderful evocation of the conception of the gods of the wind, Rampal's funeral march for a wind god, harp and flute and wind machine, whaups about the graves of the martyrs crying, wild geese calling to the homesick and swallows and river and wind in a nursery rhyme for a sick child… while a small boy screams his delight at a gale from the top of a greenhouse roof.


A final thanks to Debussy who holds a magical tuning fork to the wind and all the life it blows.

 

Producer: Jacqueline Smith

Featured in...

A selection of Radio 3's arts, drama, world music and jazz programmes.

The hidden history of plant-based diets